When you are waiting to drive one of the most eagerly awaited cars on the planet, things seldom go according to the plan. Case in point: Our rendez-vous with the 647-horsepower Ford GT at the Utah Motorsport Campus, an oasis for racers just outside the Mormon Capital Salt Lake City. Ford might as well have planned this event in Alaska: It's 5 centigrades, and there are flurries of snow.
A brief flashback: The Ford GT represents the third generation of the legendary GT40, which brought Ferrari to its knees at the 24-hour race in Le Mans in 1966. Ford took Gold, Silver and Bronze – a display of American superiority on international turf. In the subsequent 40 years, no other Ford even came close – until the company launched a homage to the original, in 2005, designed by Camilo Pardo. But it was no racer.
The new GT is a racer. Last year, it took the class trophy in Le Mans, the first cars have been delivered to customers, Europe's turn is in the third quarter of 2017. The GT was developed in extreme secrecy in a basement below Ford's engineering center; the prototypes were brought upstairs for management reviews in odd hours. When Ford launched the GT at the 2015 Detroit auto show, it was a surprise to most of Ford's employees as much as to the public.
For a brief moment, Ford had considered a Mustang derivative: "Project Silver." Instead, Ford decided to go for "Project Phoenix" – a mid-engined concept, with cutting-edge technology: The body is made of carbon fiber, and there is no V-8 behind the cabin, but a downsized V-6, mated to a Getrag 7DCL750 7-speed dual-clutch transmission. The powerplant is a variation of Ford's 3.5-liter Duratec V-6, tweaked and boosted beyond recognition: Here, it makes 647 horsepower and 746 Nm of torque. And it likes to drink – almost 17 l/100 km in the US cycle. Or more.
But it doesn't matter, as the Ford GT's performance is surreal: The sprint from 0 to 100 kph takes about 3 seconds, and it tops out at a sweet 348 kph. What it doesn't offer is the aural sensation of a classic racing engine: Pummeling down the track at triple-digit speeds, don't expect a melodic, symphonic, highly tuned engine note. It's all business, whooshing and whistling with the grunt of a freight train. Fittingly, no one even questions Ford at the lack of a manual transmission for the GT. We've all grown up, and realize that a dual-clutch automatic is the weapon of choice for ammunition this potent.
Driving the GT around the track in Utah,we were losing seconds on each lap – no mean feat when you're trying to treat the GT delicately and exploit it for all of its power. You can come in to a corner and brake at the very limit, and the Brembos (plus air brake) will stop you. Coming into a corner much, much hotter than we'd ever consider in another car, we stomped down on the brake pedal, and had missed the apex and corner completely. Too early.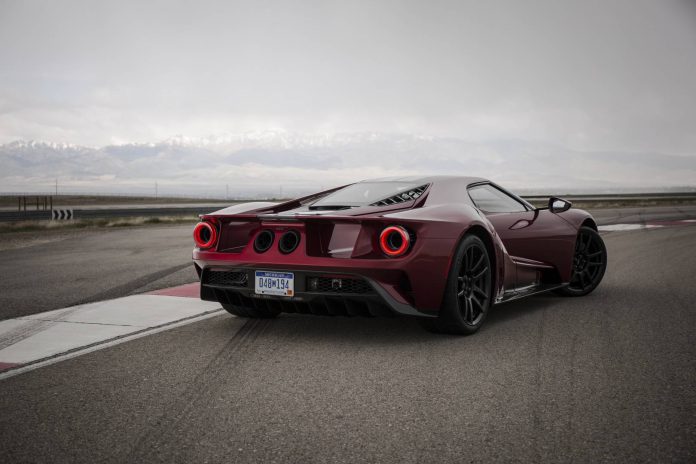 The limit is when and where you accelerate out of a turn with some gusto. It shakes a bit and becomes squirrely, but the TCS seems to keep everything in check. And there's the hyper-sensitive hydraulic steering, a welcome change from electric assist. Every road input makes the GT react, whether uneven pavement or dampness, so it's up to you to keep a watchful eye.
The GT, of course, offers multiple drive modes, which are all accessible through a fantastically efficient steering wheel: wet, normal, sport, track, and Vmax. In Sport mode and up, speed builds without any lag; Ford calls it "anti-lag," it keeps the turbos spooled up and the power flowing. The transmission is a triumph. It feels like an F1 transmission, no doubt in part to the heavily weighted shift paddles, but for snapping off quick shifts regardless of mode. Because of the inclement weather, we were relegated to Wet mode on the street, which retarded throttle inputs and made the GT just a little less fun to drive. In Track mode, the GT lowers to its lowest ride height of just 7 cm off the ground, and raises its air brake spoiler. Vmax mode actually raises the GT.
The cockpit, entered through scissor doors, is positively claustrophobic. There's plenty of front glass, but it suddenly feels low and tight, like a visor that surrounds your face. Controls are exactly where you want them to be. The steering wheel gives new meaning to the word "multifunction." The digital dashboard does change "themes" based on drive mode, and it's easy to read. It's a bare-bones design that hardly gives in to modern trends of connectivity and space for gadgets; you sit mere millimeters from your passenger. Somewhere, there's a cupholder. And trunk space? Yes, there are 11 liters of it.
The team is understandably proud of this supercar. Take North American design chief Chris Svensson: He has put countless cars on the road, but he says this is the one he wants to be remembered for. It's a curious design, with extreme proportions and a merciless shark face, befitting its character: This is nothing less than a precision weapon.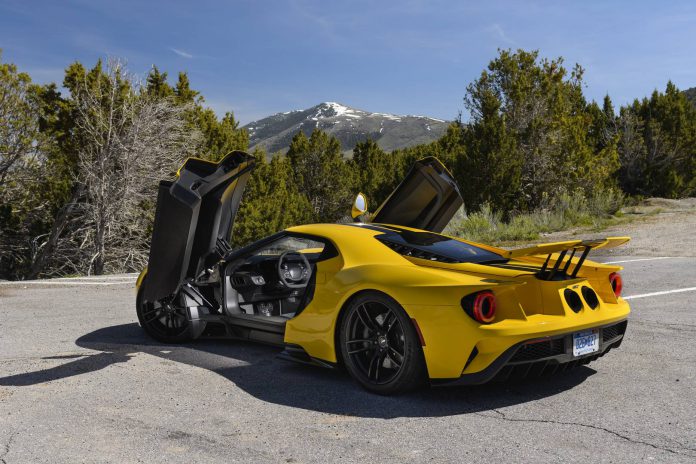 If you want one now, you need to get back to the end of the queue: Originally, Ford was going to make just 250 cars in 2016 and 2017; then Ford decided they'd add two years of production, but the 2018 cars are allocated to some of those that had applied but didn't make the cut for '16 and '17. Some time this year, Ford will take applications for the final 250 units to be built in 2019. Those who make the cut will need to dole out no less than 500 000 euros.
Text: Jeff Jablansky and Jens Meiners
Photos: Jeff Jablansky and Ford