O.CT, the tuning division of Oberscheider Car World in Austria, recently revealed their take on the Lamborghini Huracan Spyder LP610-4. The tuning firm, which is located in both Austria and Switzerland, is known for both hard- and software tuning through their Intelligent Programming system (IPRO).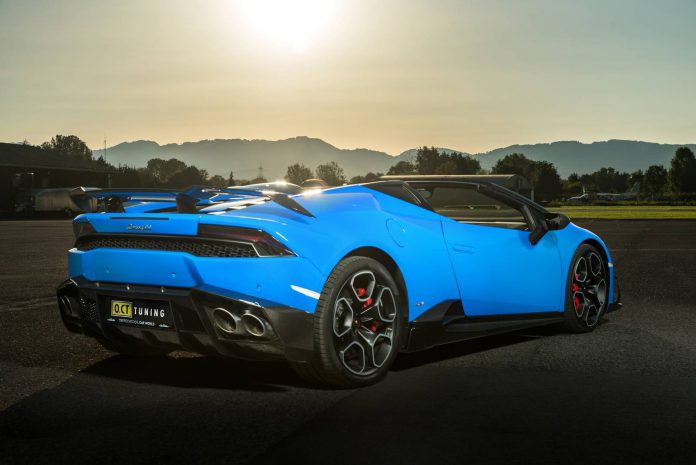 Specialized in vehicles from both the Volkswagen Group and US Chrysler, the tuning firm develops hardware in-house such as superchargers, and knows its way around various compressor techniques. A very recent example that paved the way for this insanely fast Lambo is the Audi R8 V10 Plus with the same engine. The naturally aspirated V10 engine was tuned to produce 805 hp and 810 Nm of torque, up from the already impressive 610 hp and 560 Nm it produces as standard.
The Lamborghini Huracan Spyder LP610-4 leaves the factory with the exact same output numbers, 610 hp and 560 Nm of torque. The engineers from OC.T tuning have similarly managed to raise its output to a mindblowing 805 hp and 810 Nm of torque. The performance increase is courtesy of a 20 kg lighter custom exhaust system, the fitting of an in-house developed supercharger and chipping the car's software.
The performance of this Huracan Spyder has increased significantly, now sprinting from 0 to 100 km/h in just 2.7 seconds and on to 200 km/h in just 8.1 seconds. To put things into perspective, factory performance numbers show a 0-100 km/h time of 3.4 seconds and 0-200 km/h time of 10.2 seconds respectively. In factory condition the Spyder tops out at 324 km/h, while OC.T promises their creation will run beyond 325 km/h.
805hp Lamborghini Huracan Spyder by O.CT Tuning
More into visual tuning? Make sure to check out the Lamborghini Huracan Spyder by VOS Performance.