Following on from the launch of the new Audi A5 Coupe is the Audi A5 Cabriolet and the Audi S5 Cabriolet. The previous generation was a massive success. The new car builds upon the same fundamental ingredients. It is a two-door, front-engined, four-seater convertible; guaranteed to be a commercial success!
The design is carried across from the Coupe. Cut the top off and you effectively get the A5 Cabriolet. It features a rag-top hood with a mechanism capable of opening in just 15 seconds, taking just 18 seconds to close at speeds up to 50 km/h (31.1 mph).
At the front, Audi's single frame grille sits proudly. Design lines travel in a wave along the shoulder line and pronounced wheel arches give the A5 its distinct look. At the rear, the third brake light is incorporated into the trim strip of the boot lid. The new A5 Cabriolet is 47 millimeters (1.9 in) longer than its predecessor yet slightly narrower.
The chassis uses an updated five-link suspension on the front axle. At the rear, a five-link construction replaces the trapezoidal-link suspension used on the outgoing model. Adaptive dampers are available as an option together with newly developed electromechanical power steering. The body is 40 percent stiffer and the whole package weighs up to 40 kg lighter.
Three engines will be available in the new Audi A5 Cabriolet from launch. The 2.0 TFSI with 252 hp, a 2.0 TDI with 190 hp and a 3.0 TDI with 218 hp. These will be joined by two further options, a 2.0 TFSI with 190 hp and a 3.0 TDI with 286 hp. A six-speed manual transmission, seven-speed S tronic dual-clutch transmission or eight-speed tiptronic transmission will be available for every engine version.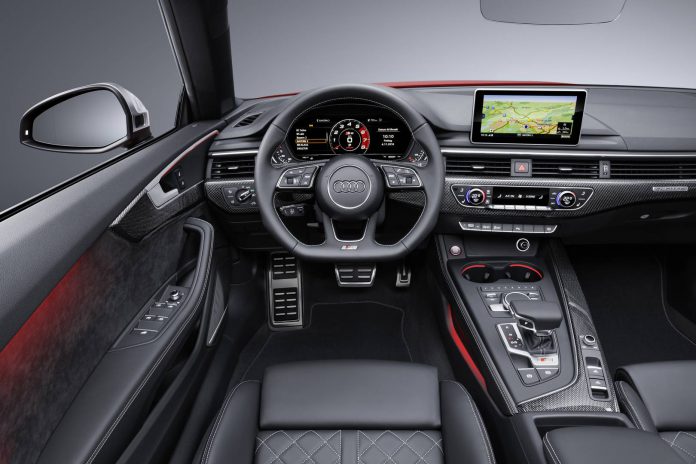 As usual, drive will come from the front wheels as standard with optional quattro drive with ultra technology and permanent all-wheel drive available as options. The Audi S5 Cabriolet gets a 3.0 TFSI, six-cylinder engine producing 354 hp, 21 hp more than the engine in the previous model. 0 to 100 km/h is possible in 5.1 seconds with an electronically governed top speed of 250 km/h (155.3 mph).
Increased driver and passenger space is on offer. With the hood closed the luggage compartment has a capacity of 380 liters (13.4 cu ft). The soft top compartment in the luggage compartment automatically moves down when opening the soft top and up again when the soft top is closed, thus providing the largest possible luggage space at all times.
The new Audi A5 and S5 Cabriolet will be available in Europe from March 2017. The A5 Cabriolet starts at EUR 49,350. The price for the S5 Cabriolet is EUR 67,800.