Going XL: After toying around with the GLE, Brabus have now focused their attention on Mercedes-AMG's larger and more luxurious GLS. Brabus, who we've recently paid a visit, come with an impressive upgrade for the massive Mercedes-AMG GLS 63 raising its output to an insane 850 hp (625 kW).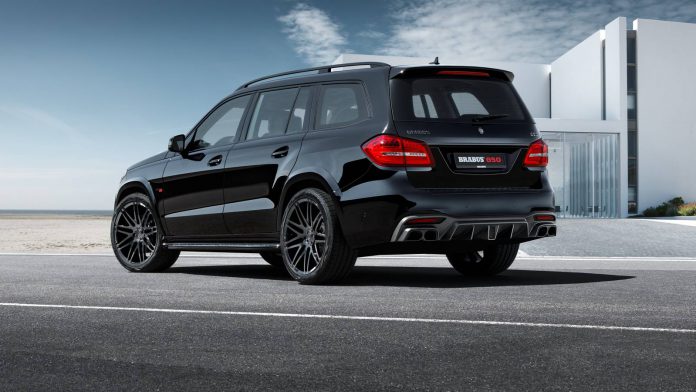 Suitably called the Brabus 850 'XL', the tuned version of the GLS 63 produces over 300 hp more than the standard vehicle. Further performance figures are just as impressive, 1,450 Nm of torque and a top speed of 300 km/h drive the capabilities of the GLS to the max.
Responsible for the performance bump is Brabus' 850 6.0 Biturbo engine with increased displacement, producing 265 hp (195 kW) more than the AMG stock engine. Brabus engineers increased the cylinder bore to 99 millimeters and fitted the engine with larger forged pistons. Further increasing the stroke to 96 mm are a special special precision-balanced billet crankshaft together with forged high-performance piston rods.
Just as important is the newly designed forced induction system. Special Brabus turbochargers with larger compression units were installed and to lower the charge air temperature, the intake tubes and charge pipes are fitted with special 'gold heat reflection' sheathing.
Finally the Brabus engine also comes with larger downpipes (75mm) and metal catalysts. The music comes from a Brabus stainless high-performance exhaust system with valve control technology. So what else can this monster do on the road besides hitting 300 km/h? 0-100 km/h are done in 4.2 seconds and considering its size, that is pretty insane. The SUV's top speed is electronically limited by the way, in the interest of safety as the car's tires will certainly not be able to handle any higher speeds.
For customers that prefer a less extreme version Brabus offers two lower stage tuning programs that respectively boost your GLS 63 to the following performance standards: 630 hp (464 kW) (Stage 1) and 700 hp (515 kW) (Stage 2).
In terms of handling Brabus engineers have developed a special control module for the AIRMATIC air suspension further optimizing the GLS' driving dynamics. It also gives the Brabus a more sportier appearance, as the ride height of the powerful SUV can be lowered by an additional 30 mm over the stock GLS 63 AMG.
Visually the Brabus 850 XL enjoys aggressive styling courtesy of the custom aero package and carbon finish 23-inch Brabus Monoblock forged wheels. As you may have read in our recent factory visit feature, there are endless possibilities when it comes to customizing the interior. Brabus will gladly spend weeks on styling the interior of your dreams.