Ferrari has successfully concluded the Racing Days in Shanghai back in early June, which also included a showcase of various special edition vehicles from its portfolio. And for the limited crowd who had the opportunity to attend the bash, such as Impressive Wrap Hong Kong, the trove of FXX-Ks have definitely got their eyes wide open, where local singer/celeb Aaron Kwok also saw his unit being delivered on-site.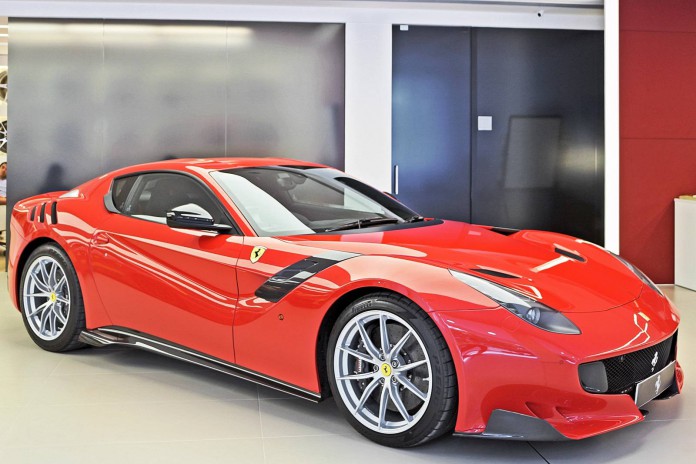 GTspirit has already mentioned Impressive Wrap's sightings earlier, but for the less lucky ones in Hong Kong, they'll at least have a chance to peek at three FR V12 beauties, as dealer Auto Italia has, since end of June extended such enthusiasm and displayed the F12tdf, 599XX & 599GTO at its flagship Repulse Bay showroom – courtesy of their respective owners – for a very limited time.
To many, the main attraction would definitely be the right-hand drive F12tdf, which made its first appearance in the showroom. Limited to just 799 units worldwide which have since been sold out, at least two units are registered on local soil. This track-focused, 4WS-capable, 780hp F12 variant comes with reworked chassis tunes and more aggressive exterior aerodynamics, including a reduced-size quarter window, but at the cost of extensive weight reduction, and a fat premium price.
Ferrari Special Range in Hong Kong
Alongside the F12tdf come the track-only 599XX and its road-going 599 GTO variant, the latter limited to just 599 worldwide but not designed for homologation in any racing series. We only wish more model variants would be available for public viewing, but understandably not all owners are generous enough to loan out their treasured vehicles for the cause.
This is not the first time legendary Ferrari vehicles are being loaned out for public viewing since the showroom's re-purposing last year, where the Maserati brand has moved to its new flagship showroom in Kowloon Bay, operating along with the existing Wan Chai location. The last of such vehicle showcasing was in last August when the dealership launched the 488 GTB in town, where a fleet of legendary MR V8 series (again loaned out by their owners) were also displayed for about a week.
Speaking of the 488, we haven't heard of the local ETA of the Spider variant as of date, let alone a formal launch – even though the vehicle might have already landed. Meanwhile local ETAs of new models, such as the GTC4 Lusso, are also still pending.