Recently the Four Seasons Hotel Group celebrated the opening of their new luxury property located on Al Maryah Island in United Arab Emirates capital Abu Dhabi. The hotel is developed by Mubadala Real Estate and Infrastructure, a company that is also responsible for developing the entire island on which the new hotel is situated.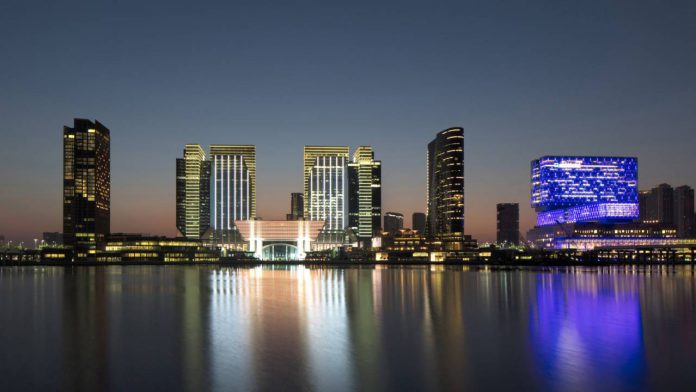 Ali Eid AlMheiri, Executive Director of the Real Estate and Investment division of Mubadala says: "The fact that Al Maryah Island has the best of what Abu Dhabi can offer – breathtaking views and spaces including the stunning waterfront promenade, some of the capital's most popular events, finest hotels and dining, luxury shopping as well as high quality healthcare – is a huge draw for tourists and local community."
PLP Architecture is responsible for the 34-story hotel design. It is said to conserve energy and reduce the environmental footprint to a minimum, without compromising in visual appeal. On the inside large windows on all sides of the building ensure that sufficient natural light comes in and that views of the city's skyline and the Arabian Gulf can fully enjoyed.
"At Four Seasons Hotel Abu Dhabi, the natural hospitality of the region combines with signature Four Seasons service to create an experience of thoughtful luxury like no other," says General Manager Sam Ioannidis, who leads a team of 450 carefully chosen staff who are eager to receive their first guests. "Our aim is to ensure that every need is anticipated, every wish is granted and every minute is memorable when you are with us at Four Seasons."
The hotel tower houses a total of 200 rooms and suites, each offering breathtaking views of the gulf and city skyline. All rooms feature a seating area, a spa-like bathroom and boast the latest technologies available in the hospitality industry.
Four Seasons Hotel Abu Dhabi at Al Maryah Island
For guests that wish to stay in an even more lavish environment the Four Seaons hotel in Abu Dhabi offers its royal suite. Huge two-story windows provide guests with unparalleled views of Abu Dhabi.The suite measures a total of 267 square meters and is decorated with crystal chandeliers, hand painted silks, exotic marble and rich polished floors. Another option is the presidential suite which has similar features. Both suites can be expanded via adjacent accommodations in order to provide for larger parties.
Amenities in Abu Dhabi's first Four Seasons hotel comprise of no less than six dining and drinking venues, a rooftop pool terrace and a very own 'desert oasis': the Dahlia Spa. The Four Seasons Abu Dhabi is the first Four Seasons luxury property to open its doors in the capital of the United Arab Emirates. The gulf state already has two other Four Seasons properties, both located in Dubai.