After winning his home round in Norway, Andreas Bakkerud has scored his second straight victory today at the World RX of Sweden. The 24-year old from the Hoonigan Racing Division drove his Ford Focus RS Supercar to the finish line first and now sits third on the overall standings behind Mattias Ekstrom and Petter Solberg.
Bakkerud's win was not an easy one, Q1 and Q2 had a significant amount of rain making it hard to score proper times. By the end of Q4, there were four different winners namely Sebastien Loeb, Johan Kristoffersson and Petter Solberg – Bakkerud won the final qualifying. Kristoffersson went ahead to win the maximum points in the semi final but the Volkswagen driver suffered a puncture in the final, he finished fifth eventually.
Second place on the podium was Loeb in the Peugeot Team Hansen 208 WRX, leading the sister car of Timmy Hansen. Timmy was running second in the final but his car broke down allowing Loeb to claim second. Nonetheless, Timmy was presented with the coveted Monster Energy Super Charge Award for beating his rivals to the first corner during the final session.
Speaking about his victory, Bakkerud said, "If someone had told me a couple of months ago that I would win Norway and Sweden, I would have told them they were mad! Inside my Ford Focus RS Supercar, I have a really big mirror and all I could see was a nine-time World Champion Sebastien Loeb behind me – I couldn't relax. Even on the last lap, I kept thinking about what happened with Timmy Hansen and Mattias Ekstrom last year and I absolutely wasn't going to let that happen again. I want to say a big thank you to my team – the conditions throughout the weekend were extremely difficult with it being wet one minute and dry the next. I trusted the guys with the different car set-ups and they didn't let me down."
Fourth place went VW Polo RX driver Anton Marklund who despite encountering a technical problem still managed to beat teammate Kristoffersson. Ekstrom's e-throttle broke during the final prompting him to retire, he has won World RX of Sweden in the past two years. The Audi S1 RX driver still leads the championship with 142 points, away from Solberg who has 137 points. Bakkerud in third has 110 points while Loeb and Kristoffersson tie in fourth with 106 points.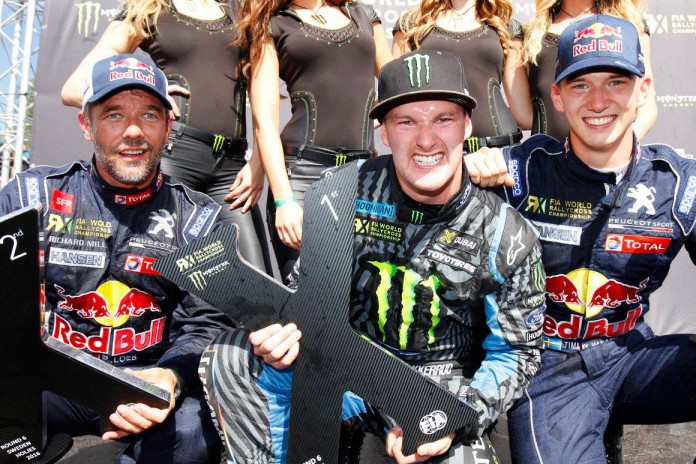 Ekstrom retirement was not enough to bring him down as he still secured sixth, and was followed by teammate Topi Heikkinen. The EKS team are still the leaders of the team's standings by 32 points over Peugeot Team Hansen.
Behind the EKS duo, Robin Larsson finished eighth in his Audi S1 supercar leading Janis Baumanis and Timur Timerzyanov both driving Ford Fiesta supercars.
Round 7 of the 2016 FIA World Rallycross will take place in Canada on August 6.