Mercedes-Benz just unveiled a long-wheelbase version of their most intelligent business saloon currently on offer at Auto China 2016 in Beijing. The Mercedes-Benz E-Class grows by 140 mm and is reserved for the Chinese auto market only.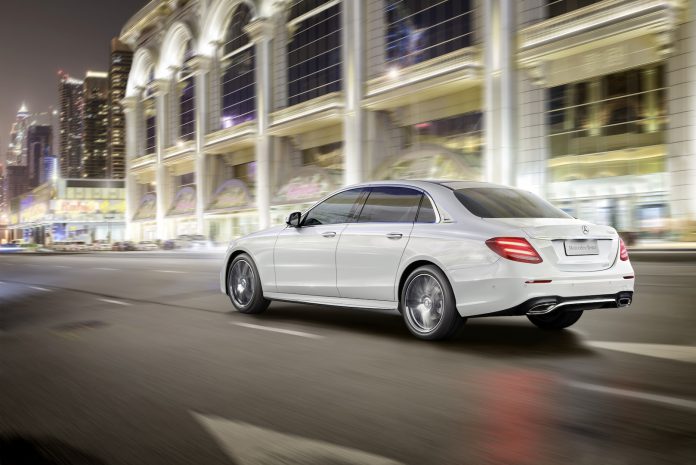 The new E-Class long wheelbase will be built at a Mercedes-Benz partner plant in Beijing, China and measures just over 5 meters in length. The main point of a long wheelbase E-Class is of course bringing its passengers superior comfort and significantly more legroom. The latter is increased by 134 mm compared to the regular E-Class sedan.
The long wheelbase E-Class will be offered in two different styles; Sedan and Sport Sedan. The traditional sedan can be recognized through its classic-style grille at the front and the Mercedes star prancing on top of the hood. The sport sedan is characterized by a slightly more aggressive stance with the Mercedes star centralized in the front grille. The long E-Class' aesthetics are further defined by short overhangs at the front and rear, the significantly increased wheelbase, enlarged wheels and a dynamic shoulder line that stretches from the front to the rear of the car.
In terms of tech and autonomous driving features, the same packages will be available to the long wheelbase version of the E-Class. The double-eyebrow LED headlights are brought over from the 2017 E-Class while MULTIBEAM high-performance LED headlights are optionally available. The same goes for the rear, where the car is highlighted through the 'stardust' LED taillights and slightly enlarged exhaust tips that reveal the car's powerful character.
Mercedes-Benz E-Class Long Wheelbase
The much-praised luxury interior is similarly brought over from the recently launched E-Class, bringing the ultimate living-room style and atmosphere to the inside of the enlarged E-Class. Starting from the E 200 L, the car's dashboard will house the two generous 12.3-inch displays jointly covered by an elegant glass screen. The house style of the car's instruments and screens can be set to three different styles; classic, sport and progressive. The car's extensive infotainment system additionally provides a 64-color ambient lighting scheme to further enhance the atmosphere inside the spacious cabin. The infotainment system of the E-Class is easily controlled using voice control or the new finger touch-pads mounted on both sides of the steering wheel.
Finishing touch to the new ultimate home office on wheels is Burmester's high-end 23-speaker 3D surround sound system. For all additional features and options on both the car's interior and exterior, including all its autonomous driving and safety features, we invite you to read our comprehensive review of the 2017 Mercedes-Benz E-Class.