Citroen driver and Irishman Craig Breen won his second straight FIA ERC Circuit of Ireland Rally today after leading all the way from SS3. He battled it out with rival and defending champion Kajetan Kajetanowicz who crossed the finish line 10.6s after Breen to claim second place. The two rivals repeated a showdown of last year's race where Breen finished first ahead of Kajetanowicz.
FIA ERC Circuit of Ireland Rally Results 2016
1. Craig Breen (IRL)/Scott Martin (GBR) Citroën DS3 R5….1h54m16.1s
2. Kajetan Kajetanowicz (POL)/Jarosław Baran (POL) Ford Fiesta R5….+10.6s
3. Alastair Fisher (GBR)/Gordon Noble (GBR) Ford Fiesta R5….+56.4s
4. Josh Moffett (IRL)/Gordon Noble (GBR) Ford Fiesta R5….+1m40.1s
5. Jonathan Greer (GBR)/Kirsty Riddick (GBR) Citroën DS3 R5….+2m07.0s
6. David Bogie (GBR)/Kevin Rae (GBR) ŠKODA Fabia R5 ….+2m55.6s
7. Stephen Wright (IRL)/James Fulton (IRL) Ford Fiesta R5….+4m36.1s
8. Tom Cave (GBR)/James Morgan (GBR) Ford Fiesta R5….+4m51.1s
9. Joseph McGonigle (IRL)/Ciaran Geaney (IRL) ŠKODA Fabia S2000….+5m52.2s
10. Jarosław Kołtun (POL)/Ireneusz Pleskot (POL) Ford Fiesta R5….+6m26.2s
FIA ERC2: Wojciech Chuchała (POL)/Daniel Dymurski (POL) Subaru Impreza STi
FIA ERC3: Łukasz Pieniążek (POL)/ Przemysław Mazur (POL) Opel Adam R2
FIA ERC Junior: Łukasz Pieniążek (POL)/ Przemysław Mazur (POL) Opel Adam R2
Alastair Fisher rounded off the podium by finishing third in his Ford Fiesta R5, making up for his last two retirements on the same circuit. With Kajetanowicz in second and Fisher in third, Ford claimed two podium wins in Ireland – Fourth place also went to Ford drivers Josh Moffett and Gordon Noble.
FIA ERC Circuit of Ireland Rally 2016
Breen had a strong 30 seconds lead entering the second leg of the rally but a poor choice of tires caused him a significant loss of time. Kajetanowicz began to catch up with the Citroen driver closing in firmly after Breen's car damaged a tire on SS12. The Irishman was however able to improve by setting the fastest time in the penultimate stage before claiming his second ERC career win in Ireland.
Kajetanowicz on the other hand moved up the championship and now sits at the top, benefiting from the absence of Rally Canarias winner Alexey Lukyanuk who crashed out during a pre-event testing. Jonny Greer finished fifth overall in another Citroen DS3 R5 leading David Bogie who despite suffering a crash during free practice still managed to claim sixth place.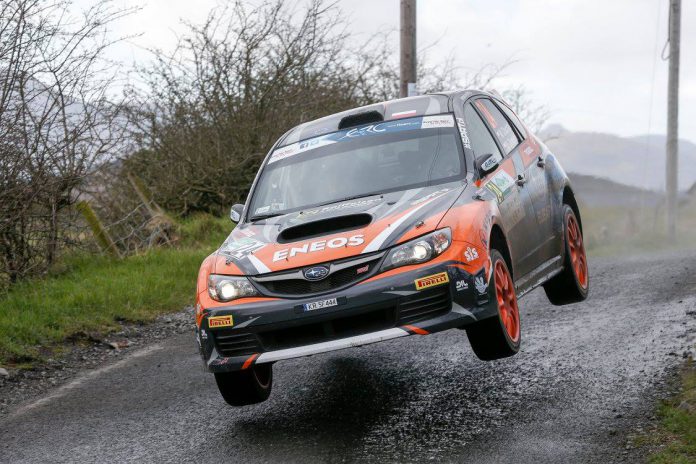 Wojciech Chuchała dominated the ERC2 category in his Subaru Poland Rally Team WRX STI taking first place and 11th overall. His fellow ERC2 driver claimed second place in a Mitsubishi Evolution. The ERC3 win went to Łukasz Pieniążek and Przemysław Mazur in a Opel Adam R2. The Colin McRae ERC Flat Out Trophy was awarded to ERC Junior podium finisher Marijan Griebel.
The next round of the FIA ERC will head over to Greece on May 6 for the SeaJets Acropolis Rally.