The 2016 Audi R18 e-tron quattro has been revealed ahead of the FIA World Endurance Championship season kick-off at Silverstone on April 17. The new challenger is more powerful and more efficient than its 2015 predecessor, producing over 1000 hp from the V6 TDI and hybrid powertrain.
New rules for the 2016 FIA WEC season see a decrease of 10 megajoules per lap in the upper limit of fuel consumption at Le Mans, that prompted Audi to create an even more efficient challenger. As a result, the 2016 Audi R8 recovers 50% more energy than its 2015 counterpart. It also received an overhaul of aerodynamic parts while nearly all mechanical and electrical systems were redesigned.
The turbocharged Audi V6 TDI engine now produces over 514 hp while the hybrid system comprising of a motor generator unit produces over 476 hp. The drivetrain features a rear-wheel drive configuration and e-tron quattro four-wheel drive while in hybrid mode.
2016 Audi R18 e-tron quattro
Since 2012, Audi has been using Electrokinetic technology to store energy via a flywheel energy storage system. With the new rules, Audi is switching to a higher energy class which will require them to store more energy than before, an increase of 50% to 6 megajoules. The new car will thus use an electrochemical storage system in the form of a lithium-ion accumulator which is suitable for high levels of energy storage and recovery.
Also new to the 2016 season is the introduction of track-specific limits in terms of how much energy the hybrid system may supply. In this case, Le Mans has a limit of 408 hp but the MGU may recuperate any amount of energy, the limit applies to how much of that energy can be availed to the powertrain.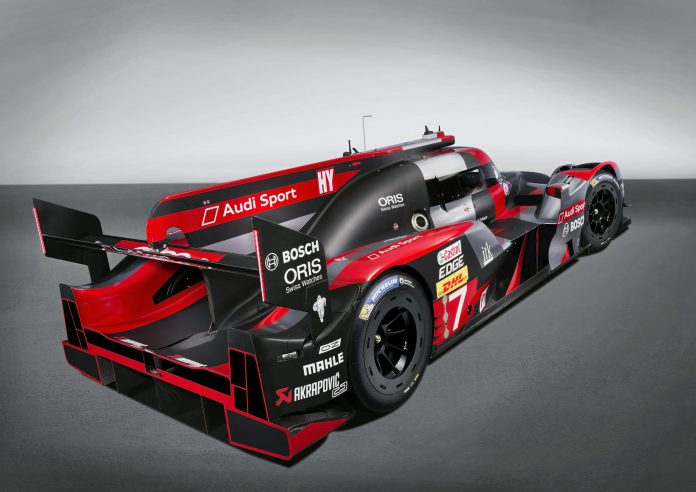 In the safety department, Audi continues to improve over what we have already seen on its previous LMP1 cars. Matrix headlights combined with Audi laser lights play a powerful role during night races by optimizing the light beams at speeds of up to 340 km/h. Additional safety features are found on the composite monocoque comprising of carbon fibers with aluminum honeycomb core and Zylon side panels.