A stunning yellow Ferrari LaFerrari has been delivered in Thailand recently and its images can be seen below. The hypercar belongs to a member of the Ferrari Owners' Club Thailand and it cost him 200 million baht, which roughly translates to an astonishing $5.7 million!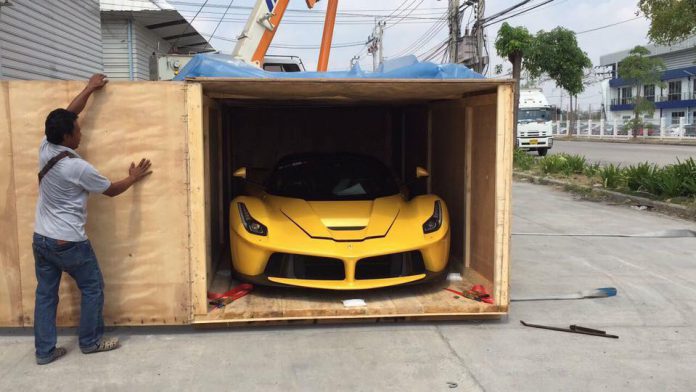 As you may already know, the LaFerrari is powered by a hybrid drivetrain, wherein a 6.3-litre V12 engine combines with an electric motor. The V12 has an output of 789 hp and 700 Nm of torque, whereas, the electric motor generates 161 hp. This means that when the two work in unison, the LaFerrari pushes out over 950 hp and over 900 Nm of torque, enough for a 0 to 100 km/h sprint of under 3 seconds, 0 to 300 km/h in 15 seconds and a top speed in excess of 350 km/h.
The power is transmitted to the rear wheels of the car by a 7-speed DCT gearbox. Moreover, the LaFerrari gets carbon-ceramic Brembo brakes and Pirelli P-Zero tyres. The production of the LaFerrari is limited to 499 units.
Yellow Ferrari LaFerrari Thailand