Just moments into the 2016 Detroit Motor Show and we've immediately had the opportunity to get a close look at the all-new 2016 Mercedes-AMG SLC 43. Announced just at the finish line of 2015 along with the new Mercedes-AMG S65 Cabriolet, this is the long awaited successor of the SLK we've been waiting for quite a while.
The open-top Mercedes-AMG SLC 43 packs a 3.0-litre V6 biturbo in combination with a 9G-TRONIC transmission. The maximum performance figures read 367 hp and 520 Nm of torque. This translates into a 0-100 km/h sprint in just 4.7 seconds and an electronically limited top speed of 250 km/h.
The 2016 Mercedes-AMG SLC 43 comes with Mercedes' dynamic select function, letting the driver choose between five driving modes. For maximum efficiency there is self-explanatory ECO mode, while the comfort mode mixes relaxed driving with a good fuel economy. The most important driving modes comprise of Sport and Sport+, the latter being the most extreme one. Finally there is the individual mode, in which Mercedes-Benz let's its customers configure their ideal driving mode. It's worthy of noting that a manual and ESP modes come standard with the SLC 43 as well.
The Mercedes-AMG SLC 43 comes with a unique suspension setup. At the front, the rapid convertible has a three-link setup with stiffer steering knuckles and an increased negative camber, together with new wishbone guide bearings. At the rear, the SLC 43 features a four-link axle with comparable modifications. To go with the top-of-the-line suspension setup, optional AMG ride control and AMG limited slip differential for the rear are optional.
Exterior-wise the Mercedes-AMG SLC 43 looks like a true AMG by all means. We can see the distinctive AMG tail pipes at the rear, and the diamond radiator grille that is finished in gloss black at the front. Along the way we find the 18-inch AMG lightweight alloy wheels, which are available with a gloss black finish to match the grille.
Taking a seat inside, we can see the traditional use of high-end materials that come standard with any AMG. The Mercedes-AMG SLC 43 enjoys a new multi-function sports steering wheel as well as a clean mid-console. The black nappa leather interior and sport seats are standard in the SLC 43 as well.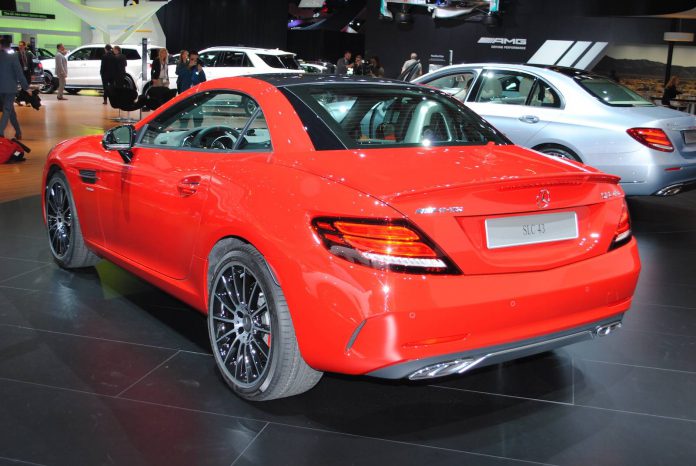 The brand new Mercedes-AMG SLC 43 is available for order from mid-January, right after potential customers and enthusiasts have enjoyed its presence at the auto show. For more information about the Mercedes-AMG SLC 43, read our dedicated post and to get more updates about the Detroit Motor Show 2016, visit our news channel.