The Koenigsegg One:1 development car is up for sale at UK-based car dealer, SuperVettura Sunningdale, for $6 million. This prototype was shown by Koenigsegg at the Geneva Auto Show 2014 with the chassis number "7106". Unlike the production-spec cars, this One:1 gets a roll-cage and weighs 100 kg more.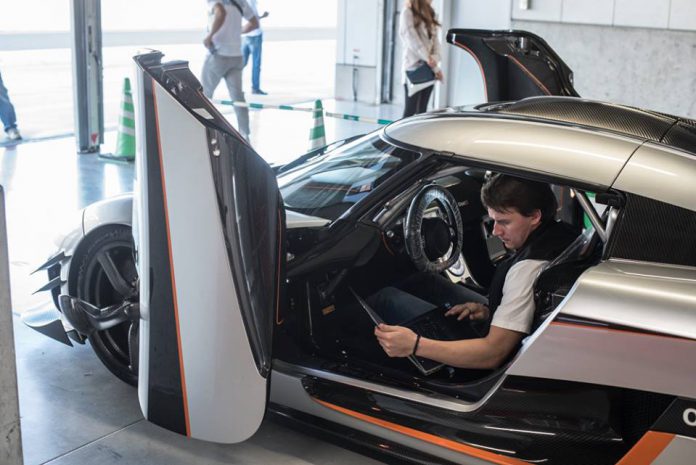 Furthermore, while the six production-spec One:1 models were quickly shipped off to their respective customers for a price tag of $2.8 million, this one was used by Koenigsegg to set lap records at the Spa-Francorchamps and Suzuka circuits and the famous 0-300-0km/h sprint record.
Koenigsegg had also planned to use this One:1 to break the Nurburgring lap-time but the speed restrictions around the circuit prevented that project. Although the restrictions will be lifted later this year, it will depend on the new owner and whether he will allow the car to be used on the track. The development car will be ready for delivery this month and it fulfills all the US regulations.
As we know, the One:1 is the most track-oriented Koenigsegg ever made. It gets the Agera's 5.0-litre twin-turbocharged V8 engine but the power has been tweaked from 940 hp to 1,341 hp (1360 PS). Combine that with the vehicle's dry weight of 1,360 kg and you get the inspiration for the name "One:1".
Koenigsegg One:1 for Sale
The 0 to 100 km/h time stands at 2.8 seconds but Koenigsegg hasn't tested its top-speed as that is not the company's priority considering its limited resources. However, Christian von Koenigsegg is confident that the One:1 can break Bugatti Veyron's top-speed. "We believe the One:1 can go on to reach in excess of the current 435 km/h record, but we think a 'usable' record is much more important," he had stated last year.
SuperVettura is the official dealer for Koenigsegg and BAC Mono in the UK and it also sells both classic and contemporary pre-owned luxury vehicles. Some of the cars currently on sale at the dealership include the last Koenigsegg Agera R, a rare Lamborghini Reventon Roadster and a 1959 Jaguar XK150 S.