Dutch shipyard Heesen Yachts has always set itself apart by defining new measures and trends in the yachting industry. One of their latest project is a hybrid superyacht named 'Nova'. Set to be completed in 2017, Nova follows the success of Galactica Star which was the world's first yacht to utilize a Fast Displacement Hull Form.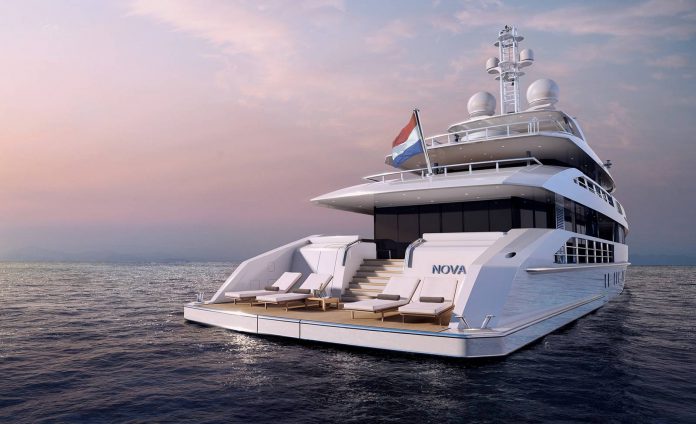 Project Nova has been endowed with both a diesel mechanical power source and a diesel electrical power source. Normally when we talk of 'hybrid' we mainly refer to a mechanical power source coupled with an electrical power source running on batteries. In the case of project Nova the engineers settled for the first option and eliminated the need for batteries citing easy power management as well as better efficiency.
Superyacht Nova thus has less noise and less vibrations and while traveling at 9 knots it's as quiet as when anchored. The layout comprises of four decks namely the upper deck, sundeck, lower deck and main deck. There are six spacious cabins that can accommodate up to 12 guests. The master suite is located on the main deck while the remaining cabins are found on the lower deck.
Superyacht Nova by Heesen Yachts
The engines are now smaller thanks to the new hybrid powertrain – 2 MTU diesel engines rated at 600kW each. The 50 meter yacht has a top speed of 16.3 knots when traveling at half load and a range of 3,750 nautical miles while traveling at 12 knots.
Frank Laupman from Omega Architects is in charge of the exterior design while Sinot Yacht Design will be overseeing the interior design. Some innovative design cues include her vertical bow which serves to reduce vertical acceleration that is known to cause discomfort to the guests.