If you happen to visit Japan in 2016, then there is one place you can't afford to miss and that is Bingo Sports – an exotic supercar dealership located in Nagoya City. The city itself is enough reason for you to visit Japan as it hosts numerous cultural museums, the infamous Sakae entertainment district and the Sky-Boat Ferris wheel. Oh, don't forget the pachinko too!
Established in 2002, Bingo Sports has grown to become one of the most reputable supercar dealership in Asia let alone Japan. Most recently in 2013, they were named as the official Pagani dealer in Japan before acquiring a series of Pagani models that are only seen in motor shows and exclusive track days.
They opened their first showroom in 2003 in Nagoya and a second one in Tokyo two years later as the demand of high end foreign cars in Japan kept rising. During the 2013 fiscal year, their sales amounted to 3.9 billion yen which translates to around $32 million.
Bingo Sports Japan Part 1
Their cars range from classic Japanese collectibles to highly sought after Italian and German supercars. Their most recent track day at the Fuji Speedway garnered worldwide attention as they had a collection of cars that are not only rare in Japan but in the rest of the world too. Most notably was the presence of a Pagani Huayra, Pagani Zonda F Clubsport, Pagani Zonda Kiryu and the mighty Pagani Zonda Revolucion.
You must have seen photos on the internet of four tracks loaded with a plethora of supercars including a Ferrari F40 LM, Bugatti Veyron, Ferrari F40 road car, the aforementioned Paganis and more. It's worth pointing out that the 'new' Pagani Zonda Kiryu made its first public debut at Fuji Speedway yesterday. It's one of the several Pagani Zonda 760 models upgraded from the Zonda F.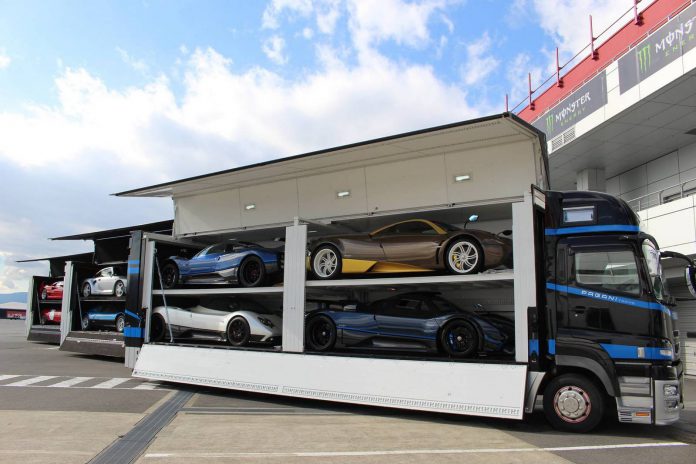 Elsewhere, if you are a Porsche fan, then you will be happy to know that Bingo Sports has a rare Porsche 962CR Schuppan in their showroom. Other exciting Porsche models include the 911(930) Carrera Flat Nose Cabriolet, 911(930) Carrera Turbo Strosek Conversion and a 911(964) RS Racing.
As a Lexus fan you will get to see a number of Lexus LFAs including the rare Roadster variant as well as 1 of 50 Nurburgring Editions. The list goes on and on, maybe one last worthy mention is the Toyota 2000GT which was listed for sale a few weeks ago. That said, don't forget to tip us whenever you come across this wonderful collection which will be displayed from time to time in various Japanese car events.
Bingo Sports Japan Part 2