Hong Kong is without a doubt one of my favorite cities in Asia. It offers the perfect mixture of Asian culture and Western infrastructure. Being one of the financial and trading hubs in the region the city of 7 million people has more than 50 five star hotels. This time we picked the Four Seasons Hong Kong for our three nights stay in the Asian city that never sleeps.
Receiving more than 60 million visitors in 2014, Hong Kong boasts an average hotel occupancy rate of 90 percent. Hong Kong is extremely popular with Mainland Chinese who come to Hong Kong to shop in one of the city's many luxury stores. But the city has much more to offer than shopping alone and our four days are certainly not enough to explore it all.
Upon arrival at Hong Kong International Airport we were greeted by a Four Seasons' employee who took us directly from the gate to immigration with a golf buggy. Past immigration he assisted with our luggage and quickly brought us to a stretched Mercedes-Benz S-Class with free wifi and refreshment towels. Although this service is not complimentary it is well worth it especially after a long-haul flight from Europe or the US.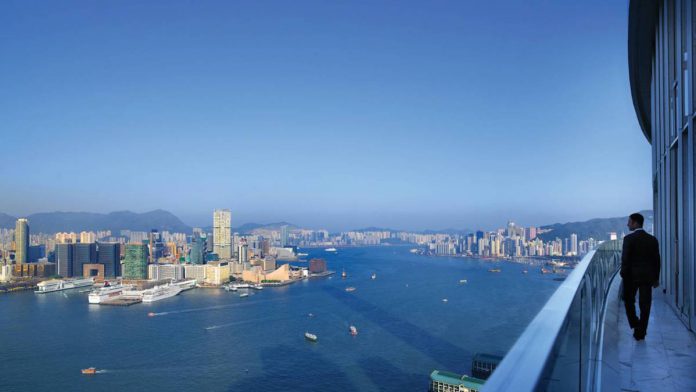 After a scenic 40 minute drive we arrived at the Four Seasons on Hong Kong Island. Located in Hong Kong's landmark, International Finance Center (IFC), the 45-storey hotel tower is accompanied by two skyscrapers and a shopping mall. It opened in September 2005 and is the only Four Seasons property operated in Hong Kong and the third one reviewed on GTspirit (also check out our Four Seasons Mumbai Review and Four Seasons Kuda Huraa Review).
The staff is extremely friendly and always ready to assist. Check-in was done conveniently in our room and apart from time when a large group checked out we never had to wait at the front desk or concierge.
Location
Hong Kong is built a peninsula and several islands. In total the former city state comprises over 260 islands, of which Hong Kong Island is the most popular one to live, work and party. Located across the bay from the Kowloon peninsula it is both the commercial as nightlife heart of Hong Kong. The Four Seasons' is situated in the financial district known as the 'Central District'. The IFC Mall and many of Hong Kong's top luxury brands are just a short walk away from the hotel. In the direct vicinity you also find hundreds of restaurants and bars, so you could say the location could hardly be any better for shopaholics and tourists alike.
The best thing about the Four Seasons however are the unspoiled views across the bay. From most parts of the hotel, whether its the bar or the infinity pool you get unrestricted views of the harbor and skyscrapers in Kowloon.
Rooms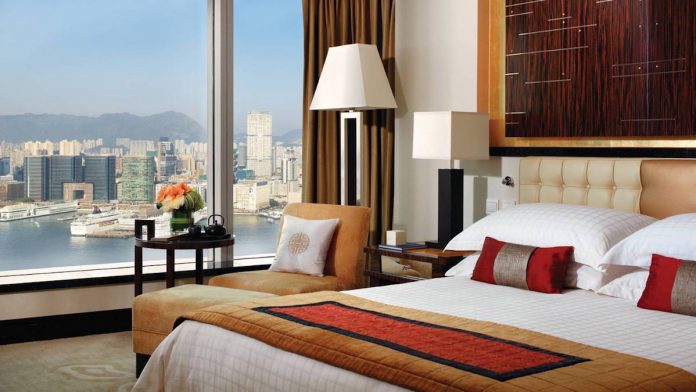 There are 399 rooms in the hotels, including 54 suites. It's worth pointing out that the hotel does not have floors number 13, 14, 24, 34 or 44 because 13 and 4 are considered to be unlucky numbers in the Chinese culture. Make sure to request a harbor view room to enjoy stunning views over the Victoria harbor and Kowloon.
We stayed in a Deluxe Peak view room on the city side which provides a panoramic Hong Kong scene around the clock. Some standard facilities included complimentary Wi-Fi, 46-inch LCD TV with DVD player, in-room safe and bathroom with separate shower and a deep-soaking tub. All rooms are finished the typical luxury and comfortable Four Seasons style.
We particularly enjoyed the large bathroom and convenience in the room. The windowsill is a nice place to sit and just look at all the cars and people going about nearly 40 stories below.
Dining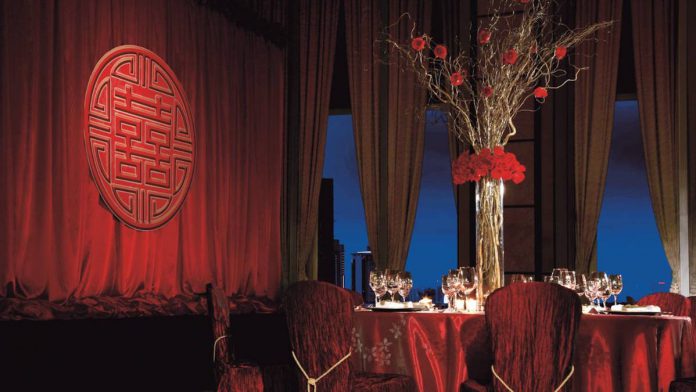 The Four Seasons Hong Kong boosts several restaurants and bars. Two of Four Seasons Hong Kong's restaurants have got Michelin stars. One of them is Caprice, which serves authentic French cuisine. The other is Lung King Heen, arguably Hong Kong's most highly rated Catonese dining place. It is headed by Chan Yan Tak who is the first Chinese chef to earn three Michelin stars.
The Caprice Bar is adjacent to the restaurant and is good place to have an appetizer or after dinner cocktail. Meanwhile, just adjacent to the entrance lobby is the Blue Bar which serves an array of classic and contemporary cocktails that you can enjoy while listening to live music on Friday and Saturday only. The pool terrace is another great place to have lunch or just hang out and soak in the views.
In case one wishes to try out Japanese, a outlet of Inagiku, one of the oldest restaurants in Japan, is situated right next to the hotel. The decor combines Edo-style artwork with modern Japanese creations against a brown and golden background.
Facilities & Spa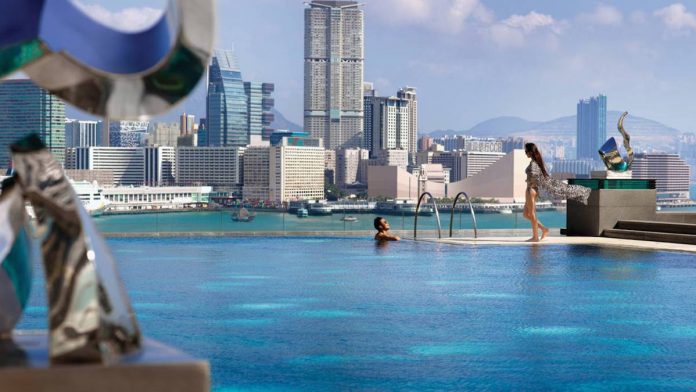 The hotel has a 24-hour fitness centre and regular Tai Chi classes are on offer. The hotel's outdoor swimming pools are open from 6am to 10pm every day and provide the perfect place to hang out between sightseeing and shopping. It's surely worth a visit!
The Spa has a vitality lounge, steam rooms and a plethora of treatments tailored to suit the demands of every individual. The only thing we missed was an indoor pool as on chilly and windy days it can get a bit cold at the outdoor pool.
Conclusion
The Four Seasons Hong Kong Hotel is blessed with one of the best locations in Hong Kong. The views across the Victoria Harbor are breathtaking and the facilities are very impressive for a city hotel in such a location. The rooms are very comfortable, spacious and well equipped. The service and food and drinks offerings are all on an extremely high level. So overall there is very little left to desire at Four Seasons Hong Kong.