The Mercedes-AMG GLE 63 Coupe featuring a V8 biturbo engine is one of those love it or hate it models. Set to rival the popular BMW X6 that pretty much had the market to itself the past couple of years, the GLE 63 Coupe is now making a name for itself and is subject to many of the latest tuning programs.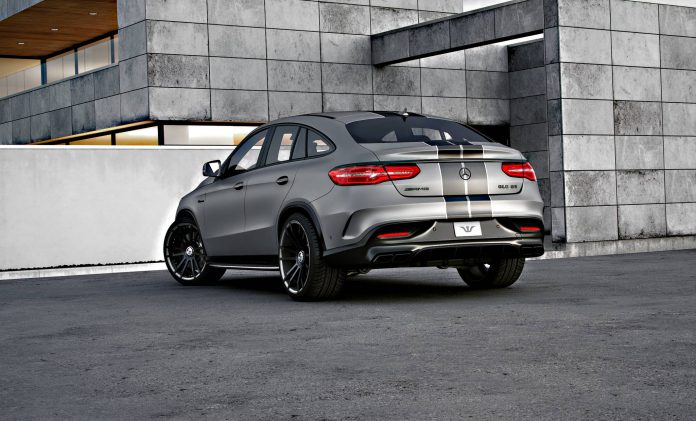 German tuner Wheelsandmore gives the Mercedes-AMG GLE 63 Coupe a new winter coat with a matte grey finish. What's more are the ultralight forged multipiece 6Sporz that draw the attention of your eyes immediately. If those are not the wheels you wish to have, wheelsandmore can provide you with ultra-concave F.I.W.E. wheels as well.
Under the hood is where the German tuner makes it really happen. GLE 63 AMG owners can choose from a stage 1 ECU upgrade / chiptuning that increases the output of the bulky SUV from 557hp and 700 N.m. of torque to 600hp and 850 N.m. of torque. The stage 1 upgrade includes an F1 airfilter-kit. The second possibility is choosing the stage 2 tuning program, boosting your GLE from 557hp and 700 N.m. of torque to an insane 670hp and 850 N.m. of torque. This package includes sport catalysts besides the F1 airfilter-kit.
Mercedes-AMG GLE 63 by Wheelsandmore
When you think you've seen it all, the German tuner comes with an additional tuning package that is nicknamed 'Seven-11'. The stage 3 tuning package will fire up the performance of your GLE even more, by 143hp and 400 N.m. of torque respectively. The dynamometer should read 700hp and 1100 N.m. of torque with the upgrade installed. The Stage 3 package additionally includes a valve controlled exhaust system.
For the GLE owners that just can't have enough power, Wheelsandmore introduces the stage 4 a.k.a. 'BIGBANG' tuning program that will increment power from 557hp and 700 N.m. of torque to a whopping output of 792hp and 1150 N.m. of torque. The result is a sprint to a 100 km/h in just 3.9 seconds and an electronically limited top speed of 300 km/h. Considering the size of this Benz these are serious numbers!