The Hyatt hotel chain recently opened its second all-inclusive Hyatt resort in the Mexican paradise city of Cancún, Mexico. The new Hyatt Ziva resort is located on Punta Cancún, one of the most prestigious locations in the Mexican coastal city. The original resort that was designed by Mexican architect Ricardo Legoretta underwent significant renovations worth some 85 million dollars. The result is a near brand-new all-inclusive resort that targets all age groups.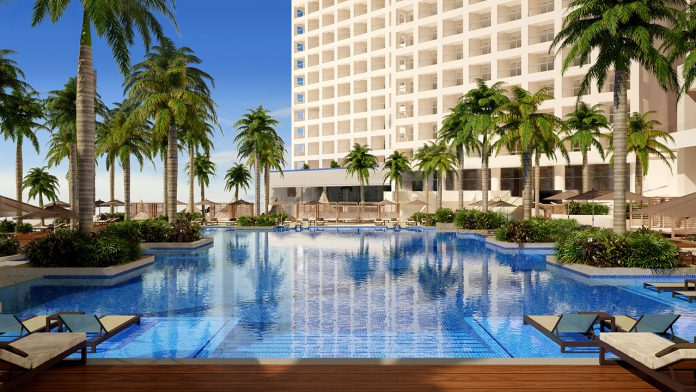 In terms of architecture, the original pyramid design and architectural references that reflect the Yucatan culture were preserved during the renovations. Furthermore the entrance lobby features a grand staircase as main focal point of the resort and it functions as a seating area for the amphitheater as well. In the 547 guest suites that the new Hyatt resort counts, there is a clear reference to the historical Yucatan and Mayan cultures in terms of interior styling, just like in the entrance lobby. Additionally all 547 suites have a breathtaking view over the Caribbean Sea and the lavish resort gardens.
When it comes to amenities and luxury services, Hyatt never disappoints. All guests of the newly opened resort may enjoy in-room refreshment and dining services. The really high-end services such as a butler service, concierge service and a private lounge are reserved for the upper-category suites. Next to the suite related services, the Hyatt Ziva resort is equipped with lagoon-style pools, swim-up bars, several lounges, a large ocean view fitness centre, an extensive spa and wellness area and finally a separate 'Kidz club' for the families to enjoy.
If guests prefer to take their work on holidays, the Hyatt Ziva resort has got you covered with state-of-the-art meeting and convention area's taking up to 11.000 square feet in total space. Whether it's a business lunch or a family dinner, the Hyatt Ziva resort features 9 restaurants and 6 bars and lounges bringing guests the ultimate variety in dining and drinking experience. Among the options arú a French brasserie, Italian ristorante or Asian sushi and teriyaki restaurant. Of course there is also the option of a traditional American diner and gourmet buffet, a type of dining experience that usually is present in any resort located in one of the Americans' favourite all-inclusive holiday destinations. The Hyatt Ziva resort also features a microbrewery serving three home-brewed beers made by brewmaster Juan Jose Garcia, especially for the guests that refuse to settle for a standard Corona cerveza.
The luxury property located on Punta Cancún will be managed by Playa Resorts Management, calling it 'the future of sophisticated all inclusive travel'.