German tuning company Loewenstein has applied its unique touch to Mercedes-Benz's entry-level AMG sedan, the CLA45 AMG, to create the imposing CLA SAPHIR LM45-410 Turbo.
The LM45-410 Turbo features Loewenstein's widebody kit, which is crafted from carbon fiber and widens the stance of the CLA45 by 20mm in the front and 40mm in the rear. Completing the exterior look is a three-piece carbon fiber trunk spoiler, carbon fiber rear diffuser and milled exhaust tips along with gold Loewenstein 20-inch wheels.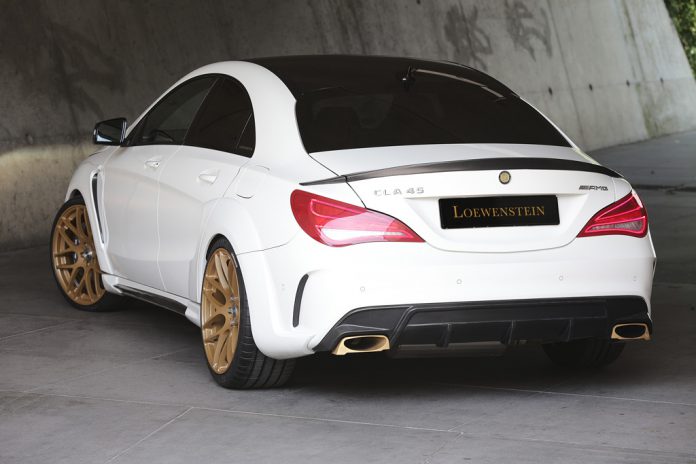 Further modifications have happened under the hood, with Loewenstein boosting output of Mercedes-Benz's 360 horsepower 2.0-liter engine via a new downpipe, sport catalytic converter, engine computer tuning and sport air filters. This results in a max output of 425 horsepower and 390 lb-ft of torque, however opting for solely the engine computer tuning still net 410 horsepower.
Interior occupants will be greeted by Loewenstein carbon-fiber pieces on the steering wheel, doors and middle console. Also available are Loewenstein floor mats and baggage compartment protectors made of soft velour.
Widebody Mercedes-Benz CLA 45 AMG