A limited edition variant of the Abarth 500 Biposto has just been introduced in the form of the Biposto 'Record'. Restricted to just 133 units worldwide, the potent hot hatch will be available exclusively in Modena Yellow complete with Tar Cold Grey accents and a selection of custom components.
Powering the Abarth 500 Biposto Record is a 1.4-litre turbocharged 16-valve, four-cylinder engine with an impressive 190 hp on tap at 5500 rpm. When combined with an overall weight of just 997 kg, a mechanical self-locking differential and a manual gearbox, the 500 Biposto Record accelerates to 100 km/h in a brisk 5.9 seconds while the top speed sits at 230 km/h.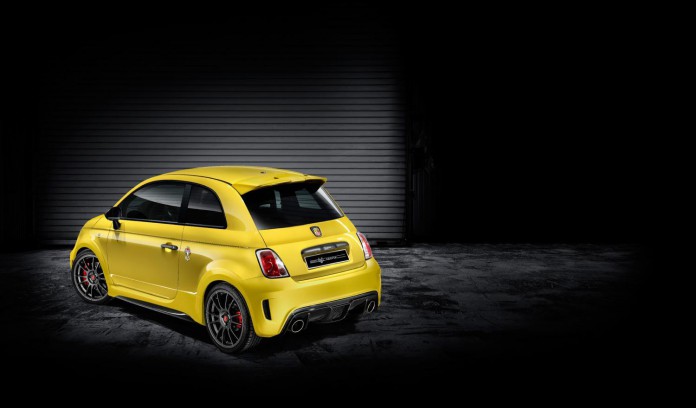 Braking is provided by a system from Brembo while there is also a throaty Akrapovic exhaust. 18-inch OZ alloy wheels are also featured as are carbon fibre seats, four-point seatbelts, a cargo net and new instrument panel.
The Abarth 500 Biposto Record has been produced to celebrate the 50th anniversary of Carlo Abarth setting a 'Class G' acceleration record at Monza.
Discussing the car, brand manager for Abarth UK Gerry Southerington said "The stunning Modena Yellow colour is enough reason for anyone to want to own a 695 biposto Record. Add in the awesome performance, the standard equipment, the history, and the fact that only 133 examples will be made, we are confident that the car represents a very desirable package that will strike a chord with the Abarth enthusiast."
[showhide]
"A new, limited edition version of Abarth's stunning 695 biposto, the Record, has just gone on sale, priced £36,610 OTR.
Just 133 examples of the striking 695 biposto Record will be built for worldwide distribution. An exclusive 'Modena Yellow' finish embellished with 'Tar Cold Grey' trims, enamelled '695 Record' badge on the side and aluminium bonnet are all standard features.
This small run of cars – 133 is the number of records held by the Scorpion brand – also feature 18-inch OZ alloy wheels, large Brembo brakes and a throaty Akrapovic exhaust. Inside, there is special instrument panel animation, Sabelt carbon shell seats, four point seatbelts, a cargo net and a unique numbered plate.
Based on the sporting, two-seat Abarth 695 biposto, the Record version is powered by the same 190hp 1.4 Turbo T-Jet 16-valve engine. Weighing in at only 997 kilograms, the car has the best weight-to-power ratio (5.2 kg/hp) and the best acceleration (from 0-62mph in 5.9 seconds) in its category. Top speed is 143mph. Peak power is delivered at 5500 rpm and top torque is 250 Nm at 3000 rpm.
The 139hp/litre specific power is remarkable and sets a new record in its class. Performance is secured by a mechanical self-locking differential combined with a manual synchromesh gearbox.
The Abarth 695 biposto Record celebrates the 50th anniversary of the day when, aged 57, Carlo Abarth broke a new acceleration record in a Class G car, at the Monza race track. Unable to find the right driver, he decided to lose 30 kilograms in weight to slip into the tight cockpit himself.
His efforts were rewarded in October 1965: Fiat Abarth '1000 Monoposto Record' Class G, 105 HP broke the acceleration record over a quarter of a mile and 500 metre distances.
"The stunning Modena Yellow colour is enough reason for anyone to want to own a 695 biposto Record," says Gerry Southerington, brand manager, Abarth UK. "Add in the awesome performance, the standard equipment, the history, and the fact that only 133 examples will be made, we are confident that the car represents a very desirable package that will strike a chord with the Abarth enthusiast."
Ends"
[/showhide]