As standard, the Range Rover Sport SVR holds the production car lap record for an SUV around the Nurburgring Nordschleife. Consequently, one cannot deny its impressive performance. Not dissuaded by that fact, Lumma Design has just unveiled a comprehensive tuning package for the Range Rover Sport SVR.
On a mechanical front, the tuning company has managed to increase power from the supercharged 5.0-litre V8 from 550 hp to a true supercar-rivalling 630 hp. What's more, Lumma Design modified SVR's bound for markets outside of Europe can be upgraded to the 680 hp mark as they don't require an EC emissions certificate.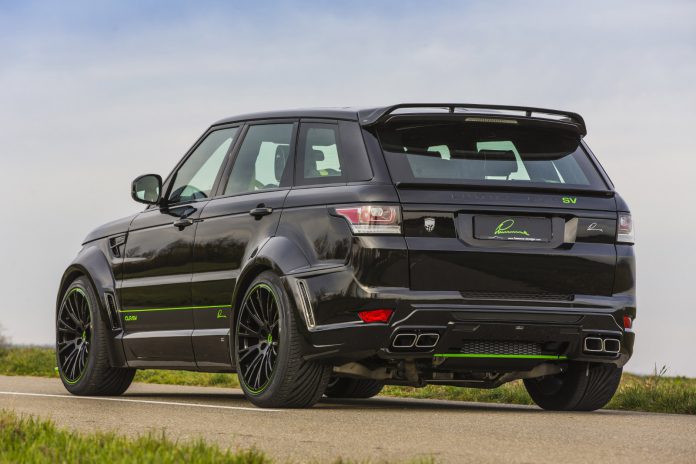 Typically, the Range Rover Sport SVR accelerates to 96 km/h in just 4.5 seconds before topping out at 260 km/h. While Lumma Design hasn't revealed performance times for its upgraded model, we expect to see acceleration times drop and the top speed to slightly rise.
Beyond the mechanical modifications, the Lumma Design SVR includes the company's complete CLR SV body kit. That kit includes the fitment of an entirely refreshed front fascia with horizontal LED daytime running lights as well as new lower fog lights. This particular example includes bright green accents.
Further points of different between this car and the stock model are the 22-inch black alloy wheels, flared wheel arches, lowered suspension while at the rear there is a prominent roof spoiler, a small rear window lip spoiler and a refreshed bumper incorporating square quad tailpipes. Lumma Design has also comprehensively overhauled the interior and adorned the seats in new quilted black leather with green stitching and piping.