Lewis Hamilton has won the 2015 Formula 1 Russian Grand Prix after leading throughout the entire race with a 10s+ gap. He took the lead soon after Rosberg retired with throttle related problems – the German was out of luck having started from pole in what appeared to be a promising win for him. This is the second consecutive Russian GP win for Hamilton.
Sebastian Vettel claimed P2 for Ferrari and garnered enough points to demote Rosberg to third place on the drivers' standings. Sergio Perez finished third for Force India even after briefly losing P3 to Bottas and Raikkonen in the final lap. The two collided moments after passing the Force India allowing Perez to claim a well deserved podium victory – not to mention he was on worn out tires!
Update: Mercedes are the 2015 Formula 1 Champions!
Felipe Massa was fourth in the other Williams leading Raikkonen – who is under investigation for the final lap incident – Kvyat, Nasr, Maldonado, Button and Alonso. Yes, both McLarens finished in the points today!
Russian GP Top 10 Results

| Driver | Team |
| --- | --- |
| 1. Hamilton | Mercedes |
| 2. Vettel | Ferrari |
| 3. Perez | Force India |
| 4. Massa | Williams |
| 5. Raikkonen | Ferrari |
| 6. Kvyat | Red Bull |
| 7. Nasr | Sauber |
| 8. Maldonado | Lotus |
| 9. Button | McLaren |
| 10. Alonso | McLaren |
This is the second Russian Grand Prix in history held in Sochi, itself making history as one of the few cities in the world to ever host both a Grand Prix and the Olympics. It's the northernmost tea plantation in the world and the second longest city in the world after Mexico City.
The 2015 Russian GP marks Fernando Alonso's 250th Grand Prix, the McLaren driver has been the talk of F1 news since the last race in Japan where he openly expressed his frustrations about the Honda engine over the radio. Nonetheless, all that has been cleared away and the team is focused now more than ever for the next season.
Despite suffering a 46G crash during FP3, Carlos Sainz was cleared by the FIA doctors and was fit to race. Meanwhile, the top ten drivers started on super soft rubber with Pirelli predicting a one-stop strategy. Race control later announced a 10% chance of rain – the temperatures read 18 degrees C air and 27 C track.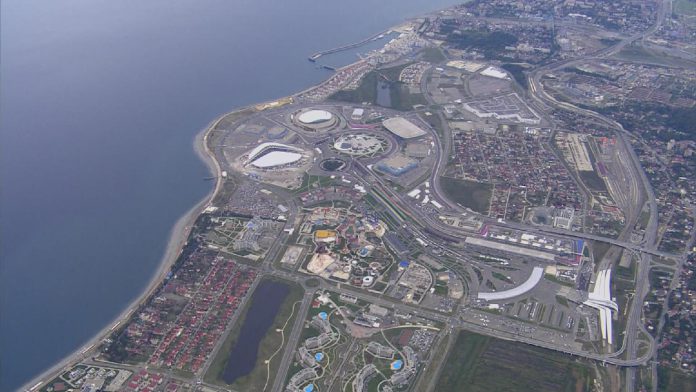 Rosberg led the formation lap and while most of the field was on super soft rubber, Ericsson, Maldonado, Alonso and Massa were running on softs. Soon as the lights went out Rosberg made a good start to retain his lead but the yellow flags flew after Hulkenberg collided with Ericsson at Turn 2.
Hulkenberg had tried to go past the Ferrari after the start but ended up spinning his car, Verstappen was caught up in the spin but it was Ericsson who got tangled up completely with the Force India. Verstappen had to limp to the pits for a fresh nose and new soft rubber.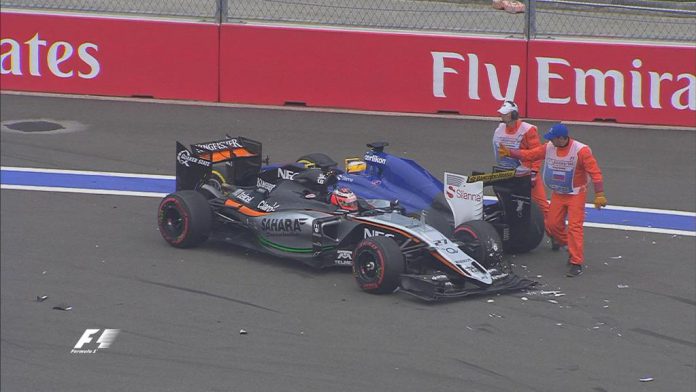 After the restart, Rosberg was back in the lead while Bottas managed to slip past Raikkonen's Ferrari and take P3. Hamilton was 1s behind Rosberg and ahead of Bottas, Raikkonen, Vettel, Perez, Kvyat, Ricciardo and Nasr. Suddenly, Rosberg complained to his team about his throttle pedal being broken.
And it was another bad luck in Sochi for Rosberg! The German limped back to the pits after his problem persisted allowing Hamilton to take the lead. His car was switched off and that was about it for him. Rosberg had similar bad luck last year in Sochi when he braked too hard at Turn 2 losing the lead to Hamilton.
Grosjean was the next victim of the race after crashing at Turn 3 on lap 13, and the safety car was brought out. This allowed several drivers to make their first pit stops headed by Perez, Ricciardo, Sainz and Button. The barriers were heavily damaged which meant the safety car period was going to last longer.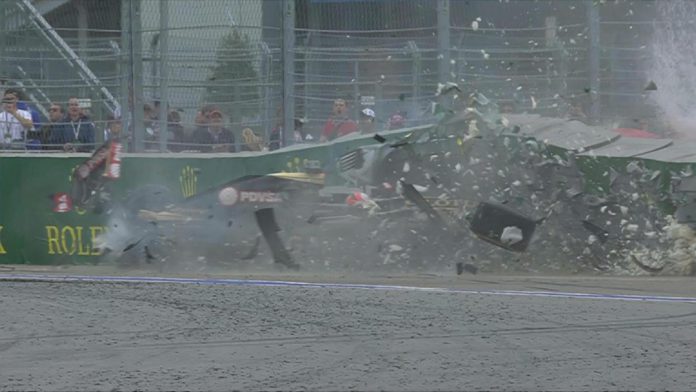 By lap 15 four drivers had retired namely Rosberg, Hulkenberg, Grosjean and Ericsson. Bottas was doing a good job to keep his Williams in second place despite immense pressure from the two Ferraris of Raikkonen and Vettel.
"It's unbelievable something like that happened," said Rosberg speaking to the media. "It's not a nice problem. I was having to lift my leg up, but then I couldn't steer as my knee was hitting the wheel. I'm just disappointed with the day, I'll think about the rest afterwards. I never write anything off."
Hamilton was 2s ahead of Bottas after restart, the two Ferraris behind were involved in an epic battle that left Raikkonen running in fourth behind Vettel. The Finn had to run wide to avoid a collision with his teammate.
While all that was happening, Pirelli announced that they had beaten Michelin to a fresh tire deal in F1 which will see them continue to supply tires through to 2019.
Halfway into the race the leading Mercedes was increasing the gap lap by lap – on lap 25 it stood at 8.7s over Bottas. The Williams was 2s clear of Vettel and 5s clear of Raikkonen. Crowd's favorite Daniil Kvyat was running in P5 leading Nasr, Massa, Perez, Maldonado and Ricciardo. Sainz was then handed a 5-second penalty for crossing the white line at the pit entry, the Spaniard was in P11.
Bottas pitted from P2 for fresh soft tires only to rejoin behind the traffic allowing the two Ferraris to take advantage of his stop. The Williams was now running in 11th place behind Sainz. Hamilton's lead over Vettel stood at 16s on lap 30 and was gradually increasing. Ferrari was however more than happy as both cars were within a podium victory with 20 more laps left.
There was a fresh round of pit stops that included Vettel, Raikkonen and Hamilton. The Mercedes made a swift stop and back in the lead again, Vettel managed to emerge ahead of Bottas but Raikkonen had a bit of a moment trying to shake off Bottas after his stop. Nasr then pitted from P2 allowing the original order to resume. Vettel slotted in P2 ahead of Perez, Ricciardo and Bottas.
The podium was not so far away now, Perez and Ricciardo were going to the end on their current tires. The only way for Bottas to finish on the podium was to use his faster and fresher tires to pass Perez and Ricciardo.
Mercedes then asked Hamilton to up his pace after Vettel trimmed a bit of his time, the Brit confirmed that he was facing traffic. Nevertheless, he replied with a 1m41.0s and later a 1m40.7s to fulfil the request. Vettel then replied with a 1m40.532s lap to trim the gap further to 11s.
Bottas' hunt for the podium came into play again at turn 2 where he passed Ricciardo for P4, Perez was struggling in P3 meaning the Williams had a chance of winning. Raikkonen tried to get past Ricciardo but went off and lost more ground, he managed to hold on P6. The yellow flags flew again after Sainz spun at turn 13, the Toro Rosso was now headed for retirement. Needless say the Spaniard had tried and was indeed headed for points despite yesterday's huge crash.
Sainz joined the group of retired drivers but was soon to be joined by Ricciardo whose car had stopped suddenly with technical problems. Bottas and Raikkonen managed to pass Perez only to collide ahead – and the Force India reclaimed P3 all the way to the chequered flag!
The next round will head over to North America for the United States Grand Prix on October 25.