German yacht builder Nobiskrug, currently creating the world's largest sailing yacht (Sailing Yacht A), has just announced its new Project Radiance superyacht with UK design house Claydon Reeves. The 110 metre superyacht will be exceptionally elegant both inside and out and should be completed in the next few years.
The exterior design of Project Radiance shows off the four different levels with a black body line stretching right from the nose of the superyacht through to the tail being one of the key eye-catching design elements. It also features a light grey hull which complements the white superstructure nicely.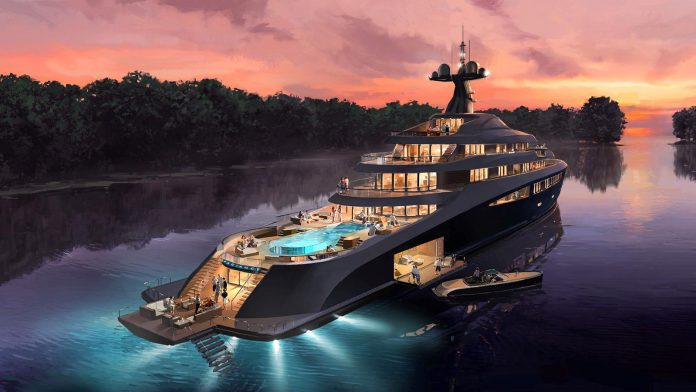 Undeniably the biggest selling point of Project Radiance are the massive outdoor living spaces at the rear of the ship. The main space incorporates a truly massive swimming pool as well as a wooden deck and a selection of seating options. At the very rear of the superyacht will be another small seating area with stairs extending down to the water. As you'd expect for a yacht this size, Project Radiance will also come with a large tender.
Inside, Project Radiance will include a large owner's suite alongside two VIP staterooms and four guest cabins.
Discussing the yacht, Nobiskrug managing director Holger Kahl said "We are thrilled to partner with Claydon Reeves, a genuine yacht specialist when it comes to yacht design. Their passion and dedication to creating unique yachts is already well known. There is a synergy between our two companies that we feel will result in a valuable relationship."