19-year old Patrick Kujala was crowned champion of the 2015 Lamborghini Blancpain Super Trofeo after acing through both races of round 5 at the Nurburgring. This was his third double win after scoring similar wins in Monza and Silverstone earlier in the season.
Kujala was among the front runners in race 1 which was led by Patric Niederhauser and Edoardo Liberati. Alberto di Folco from Raton Racing was also in the mix of those eyeing for the win. Things changed when Liberati made a mandatory pit stop and after rejoining the race his car suffered a technical issue forcing him to retire.
Kujala saw an opening and piloted the Bonaldi Motorsport Lamborghini Huracan Super Trofeo to the finish line in first place. Behind him, Zampieri and Di Folco and crossed the line in P2 and P3 respectively leading Sergio Campana and Fabrizio Crestani from Team Lazarus. Simone Pellegrinelli from Imperiale Racing won the Pro-Am class and finished P6 overall.
Mikhail Spiridonov and Roberto Silva from Kinetic Racing Team won the Amateuer class while Andres Josephsohn and Ricardo Vera aced the Gallardo Am cup.
Race 2 was no different from the first one as Kujala dominated his rivals all the way to the finish line. Daniel Zampieri proved his skills again by taking P2 while race one retirees Patric Niederhauser and Edoardo Liberati claimed a rewarding P3. Alberto di Folco finished fourth leading Team Lazarus duo of Campana and Crestani.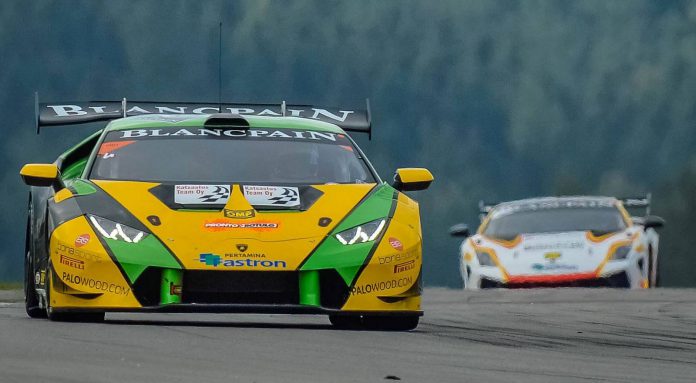 Sebastian Merchan won the Pro-Am class with a P7 finish overall while Dutchman Jaap Bartels and his Italian teammate Jacopo Faccioni won the Amatuer class.
Drivers will now rest till November 19 ahead of the European finals which will take place at Sebring International Raceway in Florida USA. The Super Trofeo World Finals will take place in the same location that same weekend.
[youtube]https://www.youtube.com/watch?v=uhQqKsPi8Jo[/youtube]