While G-Power is best known for its extensive BMW upgrades, the tuning company has just unveiled its range of modifications for the already-potent Mercedes-Benz S63 AMG.
Typically, the twin-turbocharged 5.5-litre V8 engine of the S63 AMG pumps out 585 hp and 900 Nm of torque between 3000 and 5000 rpm. Thanks to the installation of the company's Bi-Tronik 5 V1 power module, G-Power has managed to increase power to 705 hp and 5000 rpm. That allows it to reach 100 km/h in a mere 3.8 seconds when the car is equipped with the all-wheel drive system and onto a 330 km/h top speed.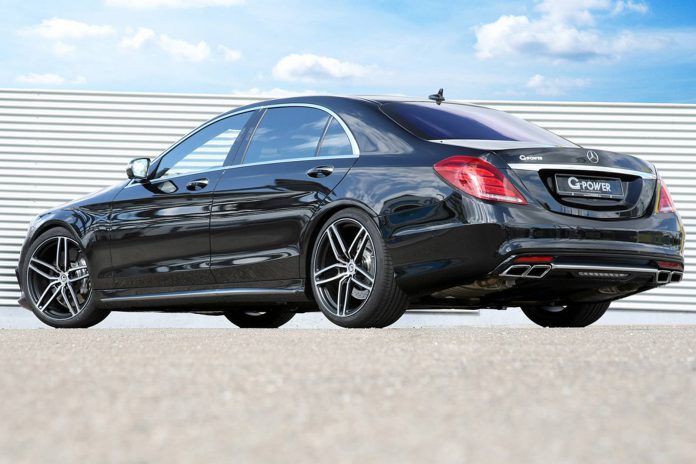 As with other module's produced by G-Power, the module goes offline if it determines that the oil or water temperature has exceeded the factory recommended maximum temperatures.
Beyond the engine modifications, the German super sedan has been installed with a set of 21×9 inch wheels at the front and massive 21×12.5 at the rear with 265/30 and 295/30 tyres.
[showhide]
"G-POWER S63 AMG (W222) with 705 hp and 1,000 Nm
Many loyal G-POWER BMW customers keep other high performance cars in the garage as well. One popular marque is AMG, and many have been asking G-POWER to work their magic on these cars too.
From this seed of an idea, the G-Power-AMG division was founded. With the experience of seven high-speed world records such as the 372.1 km/h achieved with the M5 HURRICANE RR under their belt, the G-POWER engineers now take the latest S63 AMG to new performance heights.
Key Facts: G-POWER AMG S63 W222
• 705 PS / 518 kW at 5,000 rpm (+120 PS / 88 kW)
• 1,000 Nm from 3,000-5,000 rpm (+100 Nm)
• 0-100 km/h: 3.8 sec (4MATIC version)
• External power module Bi-Tronik 5 V1 including deletion of Vmax limiter for 5,797 euros (without VAT)
• 9.0 and 10.5×21-inch HURRICANE RR forged alloys wheel with tyres from 7,643 euros (without VAT)
Significant extra power and torque is generated by the G-POWER Bi-Tronik 5 V1 external ECU control module, which integrates into the cars CAN-BUS system.
Sitting between the original ECU and the engine, this module is installed in a simple plug-and-play process using the supplied wiring harness, and can be removed just as quickly.
On part load, the car operates on its original mapping, with incoming data passing through the module unaltered. However, when the driver demands full throttle, the G-POWER mapping is triggered, releasing the extra output.
To ensure total engine reliability and longevity, the G-POWER Bi-Tronik 5 V1 module retains all the standard engine protection systems. Firstly, the module is programmed to remain dormant until the manufacturers prescribed safe operating oil temperature is reached.
Secondly, if the oil or water temperature exceeds the factory recommended maximum under load, the module goes offline, allowing the factory ECU safety protocols to take over. The module does not affect workshop diagnostics.
With its enhanced power and torque, the G-POWER S63 AMG sprints to 100 km/h in just 3.8 seconds, and continues to accelerate strongly to its 330km/h maximum speed.
To improve handling, grip, braking and appearance, G-POWER offer their ultra-light HURRICANE RR forged alloy wheels, which are machined from aircraft grade aluminium and significantly reduce unsprung weight.
Sized 9.0J and 10.5J x 21-inch and shod with 265/30R21 and 295/30R21 tyres, these wheels come in "Jet Black" with a diamond cut finish to their spoke faces and are also available in "Gun Metal Grey" and "Stardust Silver" versions.
Considering the greatly enhanced power and torque, the 5,797 euro (without VAT) asking price for the G-POWER Bi-Tronik 5 V1 power module with VMax limiter delete is actually modest. The G-POWER HURRICANE RR forged alloy wheel and tyre set costs 7,643 euro (without VAT).
[/showhide]