Sebastian Vettel has won pole for the Singapore Grand Prix 2015, he will now campaign for his fourth Singapore F1 win in the main race tomorrow night. Daniel Ricciardo claimed P2 while Raikkonen took P3 in the other Ferrari. Both Hamilton and Rosberg missed the front row after finishing fifth and sixth respectively.
F1 Singapore qualifying kicked off under artificial lights at the Marina Bay Street Circuit. Everyone but Manor drivers and Nasr headed out on the 'harder' soft tire. The 2015 Singapore Grand Prix is now in its 8th year running, Hamilton and Vettel both have multiple wins here.
The Williams were the first to set a time with Valtteri Bottas going out first on 1m48.094s before Red Bull's Ricciardo smashed that with a 1m46.805s. Shortly after, Vettel set a new fastest lap to take the lead, his teammate Raikkonen was third between Ricciardo and Kvyat.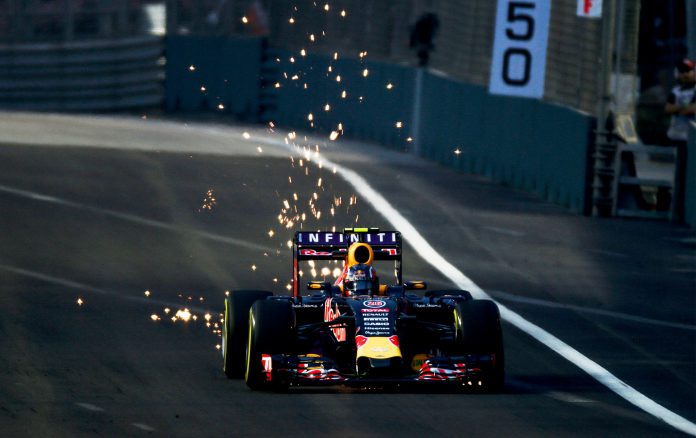 The super softs were put into play with seven minutes left to go in Q1, Hamilton was out of the top ten while Rosberg was running sixth.
Hulkenberg was the first to go fastest on super softs jumping all the way to second before Hamilton set the fastest time on 1m45.765s. Kvyat meanwhile did not waste time on super softs either as he went faster than Hamilton on 1m45.340s. Rosberg was down in fourth unable to beat Vettel's time, the Ferrari was still on soft rubber.
Upon chequered flag, Kvyat was in the lead, Hamilton in P2 and Vettel in P3 ahead of Rosberg, Bottas, Sainz, Raikkonen, Verstappen and Perez. The elimination list comprised of Nasr, Ericsson, Maldonado, Stevens and Rossi. Both McLarens proceeded to Q2, the third time this season.
Bottas was the first to head out in Q2 taking on a fresh set of super soft tires – and so did the rest of the field. The Red Bulls set the pace, with Kvyat beating his teammate on 1m44.979s, Raikkonen then split the two Red Bulls to take P2. Vettel replied with a new fastest lap on 1m44.743s, he was the last to set a time after being delayed by Button.
Q2 at F1 Singapore finished under yellow lights after Sainz hit the wall at Turn 19 leaving debris on the field. Thus the final runs of most drivers were ruined. Vettel was first leading Kvyat, Raikkonen, Ricciardo, Verstappen, Hamilton, Rosberg, Massa, Grosjean and Bottas. Those eliminated were Hulkenberg, Alonso, Perez, Sainz and Button.
Ricciardo headed the Red Bulls out first in Q3 with Hamilton close behind them. Vettel took P1 with a 1m44.305s lap, Hamilton had aborted his flyer lap after going off at Turn 7. Verstappen and Hamilton were the only drivers in Q3 without a time after the first runs of flyer laps.
When the chequered flag came out the ten drivers made the final runs, Vettel stayed on top to win pole for the Singapore Grand Prix 2015. Ricciardo took P2 leading Raikkonen, Kvyat, Hamilton and Rosberg.
A close call in the pit lane between Bottas and Ricciardo #Quali #SingaporeGP #F1NightRace pic.twitter.com/UySB7xjx1A

— Formula 1 (@F1) September 19, 2015
Free Practice Report
Mercedes-AMG set the pace on Friday's opening session with Nico Rosberg going fastest on 1m 49.184s. Red Bull was already showing potential in the first half of the session with Daniel Ricciardo going faster than Hamilton on 1m 49.596s. The reigning champion was third leading the two Ferraris of Kimi Raikkonen and Sebastian Vettel.
Hamilton managed to better his time enough for him to take second with Rosberg still unreachable. Ricciardo thus settled for third while Vettel took fourth after going faster than Raikkonen in the final minutes.
FP2 turned out to be a little different than expected. Instead of the normal fast Mercedes cars setting the pace, it was Red Bull that changed the order of things. Daniil Kvyat was the fastest driver in the session after beating Raikkonen's time, Ricciardo's Red Bull came out third fastest.
Will Stevens Marussia had hit the barriers after six minutes of practice bringing the race to a red flag briefly. Then Raikkonen set a blistering fastest lap on soft tires with Kvyat behind him. The Mercedes cars were further down in fourth and fifth. A couple of more times were set before Kvyat defined the pace with a 1m 46.142s lap to win the session.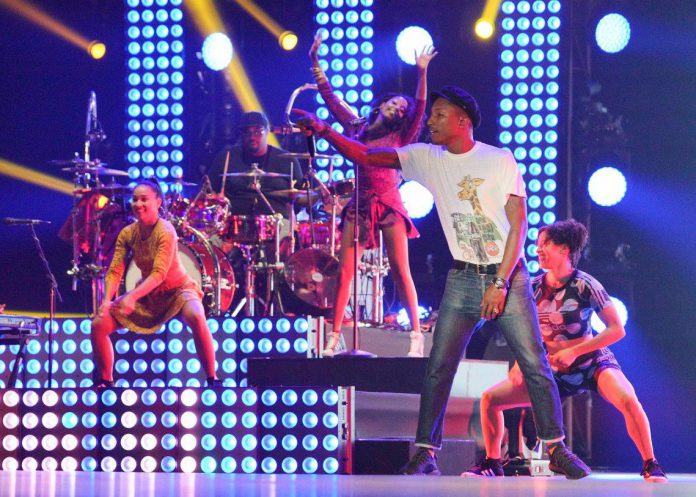 Come FP3 on Saturday evening, Mercedes-AMG did not show any signs of competitiveness. In fact it was Red Bull and Ferrari that dominated the session with Vettel setting the fastest time to lead his teammate Raikkonen and the two Red Bulls of Kvyat and Ricciardo. Hamilton and Rosberg were fifth and sixth respectively – the team tweeted that the pace of their rivals was genuinely quick.
Meanwhile, McLaren were having quite a good day at the Singapore Grand Prix with Fernando Alonso finishing seventh, his car has been consistent so far in this round. Button was further down in 13th place.
The main race will kick off tomorrow at 8 pm local time. Hamilton will be looking for his 3rd win while Vettel will be eyeing on a fourth win.