The facelifted 2016 Porsche 911 Carrera and Carrera S models have just been introduced at the IAA Frankfurt Motor Show 2015. Amidst the subtle styling tweaks, the most significant change for the new cars is the turbocharged engine powering them. We had a closer look to see what all the fuss was about.
The new turbocharged engine is a 3.0-litre twin-turbo six-cylinder unit delivering a total of 370 hp and 331 lb-ft of torque in the entry-level 911 Carrera. When mated with the PDK transmission and the optional Sport Chrono Package, the 2015 911 Carrera can reach 100 km/h in 4.2 seconds. Meanwhile, the facelifted Carrera S features the same engine but tweaked to pump out 420 hp and 368 lb-ft of torque resulting in a 3.9 seconds sprint to 100 km/h. Both cars pump out 20 hp and 44 lb-ft more than the outgoing models.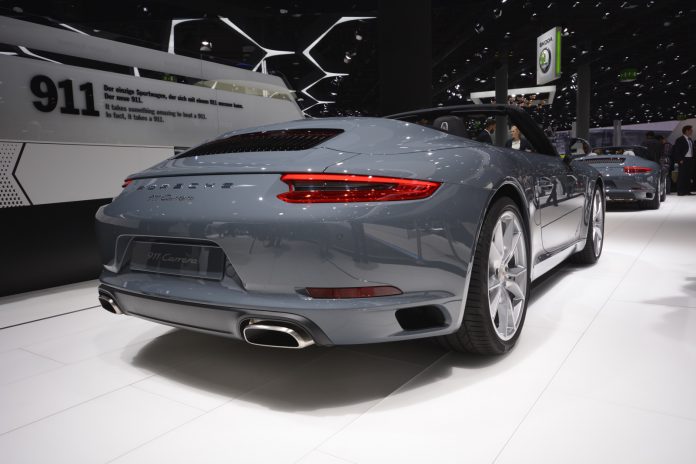 The key reason why Porsche has shifted towards turbocharged engine is their better fuel efficiency. Both models are about 12 per cent more frugal on fuel than their predecessors which ultimately means the 2016 911 Carrera S fitted with the PDK transmission, sips 7.7 l/100 km.
Visually, the facelifted 911 is distinguishable from the current car on a number of fronts. For starters, the headlights have been modified while slimmer LED daytime running lights are also featured. Elsewhere on the 911 Carrera models there are new taillights, modified tailpipes, different wheels, new door handles as well as a new engine cover with vertical louvers.
For more about the 2016 Porsche 911 Carrera and Carrera S, see our previous post. For more from the IAA Frankfurt Motor Show 2015, check out our dedicated news channel.