Premiering at the ongoing IAA Frankfurt Motor Show 2015 is the Mansory Gronos Black Edition based around the Mercedes-Benz G63 AMG. Just six examples of the Gronos G63 AMG Black Edition will be produced with each featuring a plethora of changes over the 'standard' G63 AMG which is already impressive in every sense of the word.
From a power standpoint, Mansory has modified the twin-turbocharged 5.5-litre V8. Typically, the engine pumps out 536 hp but courtesy of new connecting rods, big end bearings, pistons, a new crankshaft, cylinder headers and more, that rises to 828 hp and an electronically limited torque figure of 1000 Nm. Additionally, a newly designed exhaust system has been installed which includes stainless steel double end pipes.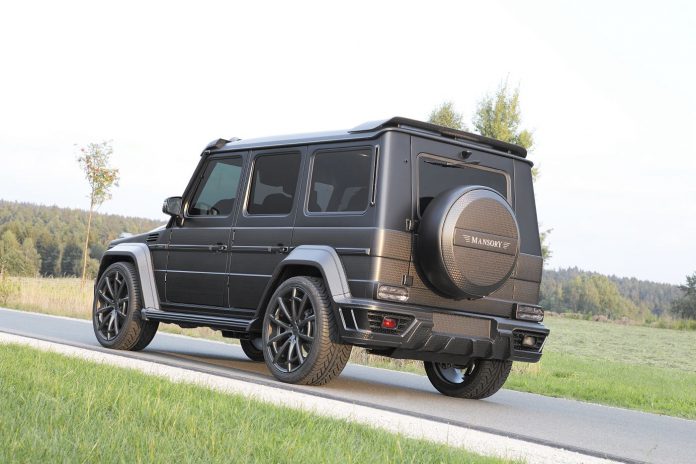 Mansory then set about its extensively exterior changes. For starters, the wheel arches have been widened so the Mansory Gronos G63 AMG Black Edition is now 40 mm wider than the standard car. Arguably the most eye-catching element of the Gronos is its bespoke front fascia which includes new headlights, LED daytime running lights, a custom Mansory badge on the modified grille and of course, the newly-shaped air intakes and grilles.
The car is rolling on a set of monoblock cast 23-inch wheels with tyres sized at 305/35 at all four corners. The wheels also incorporate an interesting spider web design. At the rear, a new spared wheel cover has been fitted as have a set of aftermarket taillight units, a modified bumper and a custom diffuser. Completing the exterior changes is a rooftop spoiler with this particular example painted matte grey.
In typical Mansory style, a number of interior changes are found. For example, the dashboard and centre console have been transformed.
[showhide]
"MANSORY GRONOS BLACK EDITION –
premièring at the Frankfurt IAA 2015
With the world premier of the GRONOS BLACK EDITION at the Frankfurt IAA 2015, MANSORY presents a new version of its successful refinement program for the
Mercedes-Benz G-Class, in a limited edition of 6 models. Based on the AMG G 63
the MANSORY GRONOS BLACK EDITION has been given a matt-black painted
carbon fibre body supplemented with a new air control blade, stiff enough to meet all
the demands on the road and off-road. A powerful performance enhancement to an
impressive 840 hp, distinctive alloy wheels 22 inches XXL format, as well as
masterfully complex hand-applied leather interior complete the luxury offroader.
The striking main feature of the elaborately manufactured carbon body reconstruction
is the significantly wider fenders. Thanks to these extensions and side skirts the Gmodel
expands by 40 millimetres at the edges. Additionally, the front and rear have
been revised by the carbon specialists at MANSORY. So, a newly designed off-road
front bumper with underride protection replaces the series bumper. The rear bumper
is also replaced by a customised carbon bumper. As a rule of thumb, MANSORY
manufactures all of its body components with carbon. The company processes the
ultra light material itself in the in-house autoclave located in Brand (not far from
Bayreuth) and thus always ensures high quality standards for material and
workmanship. No other company in the market is as closely linked to the use of
carbon fibre as MANSORY. These specialists manufacture and process this ultralight,
extremely strong material taken from the world of motorsport in their own inhouse
autoclaves, which means they don't have to rely on suppliers. This gives them
complete freedom in the scope, fit and design of components.
New headlights are the core of the MANSORY Light elements design, which give the
G model its totally unique appearance. In addition to the beautiful design of the front
lights are the clever solutions, such as the additional indicator lights. These are now
recessed under the spotlights illuminating through nine pinhead sized openings. For
protection against stone chips and dirt there are four additional lights mounted on the
roof of the vehicle which illuminate the coming terrain with extra strong luminosity.
In keeping with the strengthened visual appearance, MANSORY also turns the
screws in the power category. To this end, the AMG 8 cylinder twin turbo has been
completely reworked with genuine racing components installed. The pistons,
connecting rods, big end bearings, crankshaft, crank, cylinder head and many other
parts now meet the high requirements of the company owner, Kourosh Mansory.
Together with the newly designed exhaust system, from the manifold to the stainless
steel double end pipes that become exposed at the front of the rear wheels,
outstanding performance data is achieved. Instead of 536 hp (400 kW), the
GRONOS BLACK EDITION proudly achieves an impressive 828 hp (618 kW), while
the maximum torque rises to an electronically limited 1.000 Nm.
Striking 23 inch MANSORY alloy wheels ensure excellent contact with the road.
These also improve handling and considerably sharpen the look of the car. The
charcoal-grey mono-block cast wheel with "SPIDER" designation comes equipped
with tyres sized 305/35R23, guaranteeing great grip.
The continuation of the G-models individualisation can be found in the interior. The
dashboard and the entire centre console area have both been completely redesigned.
The in-house interior studio has completely re-fitted the interior with carbon
fibre components and lots of leather, thus applying the design of the exterior to the
interior. Once more, the team has shown that MANSORY only uses the best, flawless
leather, the highest quality Alcantara and of course only perfectly-produced carbon
fibre."
[/showhide]