The Rolls-Royce Dawn has been officially unveiled at the IAA Frankfurt Motor Show 2015. It plays in a market place of its own, being a convertible version of the part-performance focused Rolls-Royce Wraith. It's sure to attract a huge amount of attention from the boulevard cruisers in Cannes and Miami. We took a closer look.
Rolls-Royce admits that underneath, the Rolls-Royce Dawn is almost identical to the Wraith. The change of name is in fact dictated by the external body panels, 80 per cent of which are unique to the Dawn. The front grille sits 45 mm further into the body while the front bumper now stretches out an additional 53 mm. The fabric roof takes 22 seconds to operate.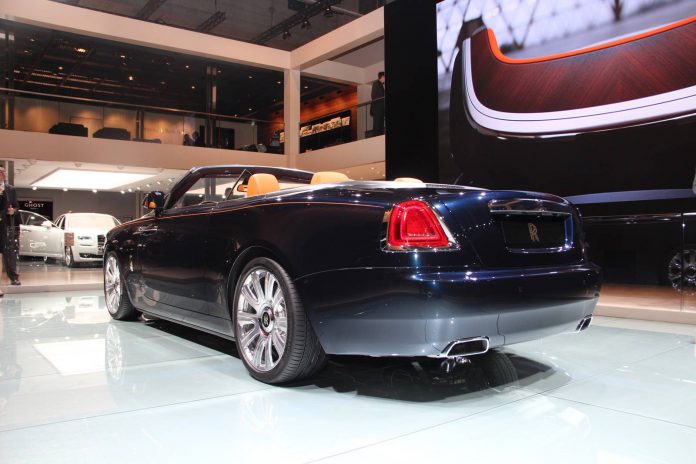 Open the suicide door and inside, the owner gets the same high quality interior we've come to expect from all Rolls-Royce models. Individual bucket seats feature at the front while the two individual seats at the back are separated by a leather clad arm-rest. Interior finishes are endless, although most cars will mix some sort of wood with leather.
Powering the Dawn is a twin-turbocharged 6.6-litre V12 engine delivering 563 hp at 5250 rpm and 575 lb-ft of torque at 1500 rpm. We haven't heard about availability yet, however, expect to see these cruising the Mediterranean by summer 2016.
For all the details of the Rolls-Royce Dawn, check out our earlier post. For all the latest news from the IAA Frankfurt Motor Show 2015, be sure to check out our dedicated news channel.