Expected to make its world premiere at the Monaco Yacht Show 2015, this is the new Mangusta 132 superyacht by Overmarine Group. The yacht was launched back in May 2015 following the sale of the first unit earlier this year. The Mangusta 132 superyacht is a direct successor to the 130 series and the fourth of the Maxi Open models from the shipyard. The other three series being the 94, 110 and 165E.
Compared to the 130 series, the Mangusta 132 Superyacht has improved technological and ecological features, not to mention its focus on efficiency. The engineering team built a yacht that ensures low consumption without compromising on performance and comfort. As a result, the Mangusta 132 can cruise at low speeds and still maintain low consumption.
The owner influenced much of the design out of his experience with Mangusta yachts, this being his second Mangusta yacht. Together with the in-house design team, they settled for a four-cabin layout with an extra salon on the lower deck. As with all Mangusta yachts, the 132 carries natural racy lines displaying an energetic look from the outside. There is a new glazing on the main deck and the overall design allows for maximum natural light within the decks. The sundeck is big enough for outdoor fun and parties.
The new hull borrowed most of its technological improvements from the 165 series; other new features include Zero Speed gyroscopic stabilisers , waterjets propulsion system and new engines. The Mangusta 132 is now powered by 3 x MTU 16V 2000 M94L engines rated at 2600hp each. Out of that, the vessel can achieve a maximum speed of 34 knots while at half load and a cruising speed of 32 knots at half load. It has an economical range of 550 nautical miles.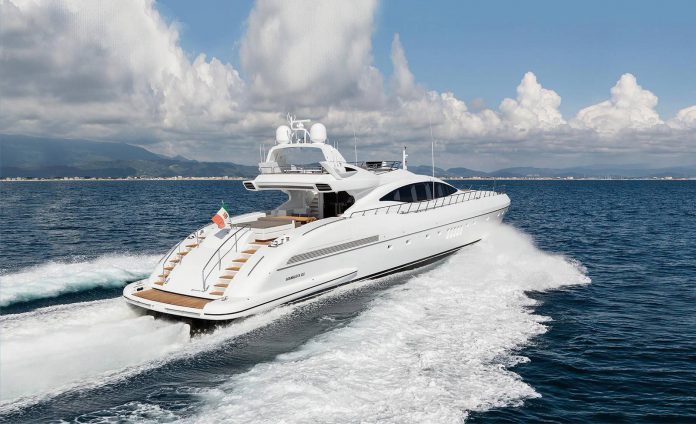 The Monaco Yacht Show will take place from September 22 to 25, this will be the first instance where the new Mangusta 132 superyacht will be seen by the general public.