After exiting his previous race event prematurely due to a crash, Gidi Chamdi was determined to make a strong comeback armed with his latest build – a 2000 hp+ Lamborghini Gallardo built by Underground Racing. Fielded by Diamonds by Wire Racing, the Lamborghini is one of the four race cars owned by Chamdi. It was accompanied by his Alpha 12 Nissan GT-R to the Shift Sector Airstrip Attack in Oregon last week where the team set a new world record.
The event was a half mile drag racing competition that gathered some of the world's fastest supercars. They included heavily modified Lamborghini Gallardos from OB Prestige Auto, Heffner Performance and Underground Racing and the Extreme Turbo Systems Nissan GT-R, Evolution MotorSports of Arizona with a 1700 hp Porsche 911 Turbo and more. Kawasaki USA brought out two H2R sportbikes for the event as well.
Gidi's first run was 325 km/h (202 mph) with low settings in the car, with mid-settings he managed an impressive 355.6 km/h (221 mph). The third run was an astounding 377.97 km/h (234.86 mph) on the clock in half a mile thereby setting a new world record. That also confirmed it as the fastest Lamborghini on the planet with its full potential still unknown – the speed would be much more higher in a full mile run.
[youtube]https://www.youtube.com/watch?v=zsJ2euGY0No[/youtube]
The Future is Promising
There is immense competition in these events and the only way to stay at the top is to extract the most from a car. Gidi works closely with AMS Performance who helped him build the world's fastest customer Nissan GT-R – a protege of the infamous Omega. He also works with Underground Racing who are responsible for the successful build of this record breaking twin turbo Lamborghini Gallardo Superleggera.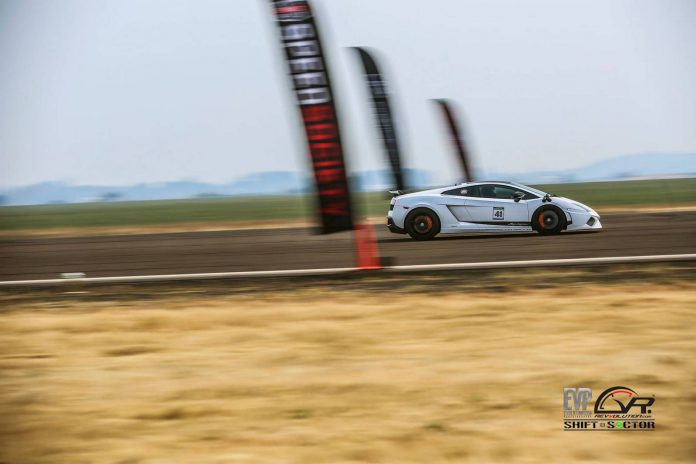 Key competitors include Heffner Performance who are in charge of building the OB Prestige Auto Lamborghini Gallardos and Extreme Turbo System who have an equally powerful Nissan GT-R as AMS Performance. The next Shift Sector event will be the California Airstrip Attack scheduled for October 24.