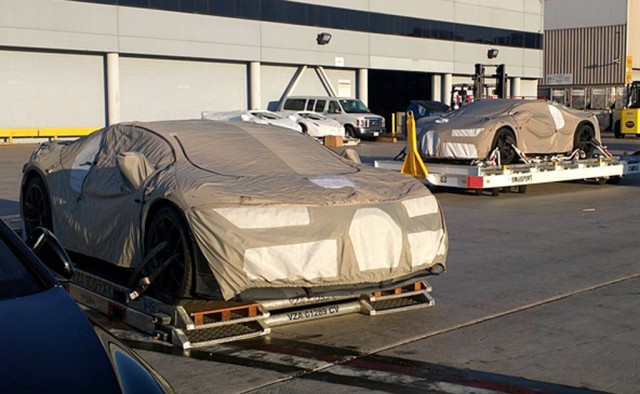 Just prior to Monterey Car Week 2015 kicking off, a prototype of the upcoming Bugatti Chiron was spied. Now two further examples were recently snapped at LAX under wraps by hungry_pengiun.
Details around these two examples are unsurprisingly scarce. Consequently, it isn't known whether they are in the United States for testing or if they've instead been flown over to be shown to current and prospective Bugatti owners from the United States. Whatever the case may be, it is immediately obvious that the new Bugatti hypercar features a design reminiscent of the Veyron with massive wheels and brakes featuring alongside a large rear wing and air brake.
Last week, another image of a Chiron showcased Bugatti's customary horse shoe front grille and sharp air intakes. It seems probable however that that example and these two don't feature their production-spec bodies.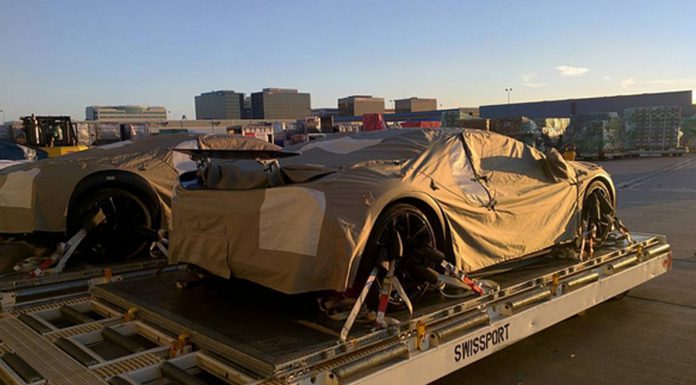 Whatever the case may be, we know that the Chiron will feature the same basic quad-turbocharged 8.0-litre W16 engine as the Veyron. However, boost will be increased and at least two of the turbos will be electrically driven units. As a result, the new French hypercar should pump out 1500 hp and consequently be capable of hitting 100 km/h in just over 2 seconds before topping out at over 450 km/h. The revised seven-speed dual clutch transmission and all-wheel drive system featuring torque vectoring will also aid in achieving these numbers.
The car will be based around the same carbon fibre architecture as the Veyron but it is reported that over 90 per cent of the parts will be brand new or revised. These new parts will be both stronger and lighter in an effort to ensure that the Chiron weighs less than the Veyron.