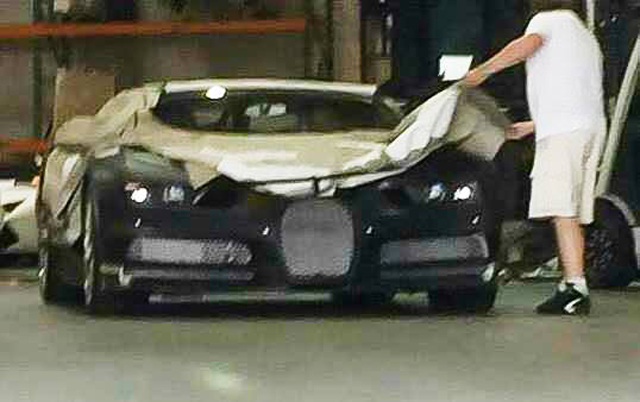 A grainy image has just surfaced online showing a test mule for the upcoming Bugatti Chiron, the successor to the Veyron. The following prototype was snapped at LAX and will seemingly undergo testing in the United States and could be shown privately to Bugatti customers throughout Monterey Car Week 2015.
The emergence of this image comes not long after the Chiron was spied from the rear in the midst of testing in Europe. That test mule was identifiable as the Veyron's successor and it is the same story with this mule.
At the front, Bugatti's iconic horseshoe grille takes pride of place as do redesigned and squarer air intakes than those from the Veyron. Additionally, sharp headlights are present. Of course, this is only a test mule and is no indication of how the Chiron will look when it reaches the market. Nevertheless, it does suggest that the new hypercar will incorporate some familiar features from the Veyron.
Beyond its looks, we know that the Chiron will feature the same basic quad-turbocharged 8.0-litre W16 engine as the Veyron. However, boost will be increased and at least two of the turbos will be electrically driven units. As a result, the new French hypercar should pump out 1500 hp and consequently be capable of hitting 100 km/h in just over 2 seconds before topping out at over 450 km/h. The revised seven-speed dual clutch transmission and all-wheel drive system featuring torque vectoring will also aid in achieving these numbers.
The car will be based around the same carbon fibre architecture as the Veyron but it is reported that over 90 per cent of the parts will be brand new or revised. These new parts will be both stronger and lighter in an effort to ensure that the Chiron weighs less than the Veyron.