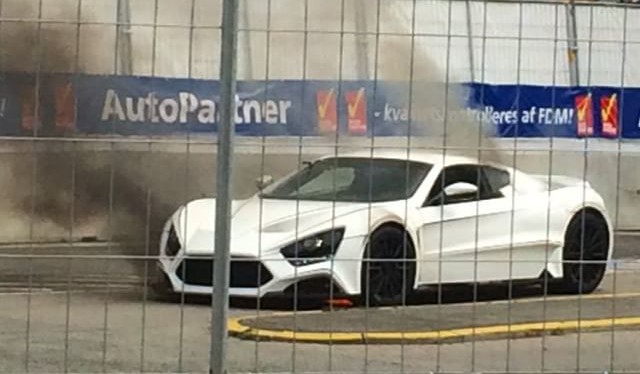 Update: Zenvo got back to us with their official statement which claimed that a fuel line failure was the alleged cause of fire. The statement further states that the car was in development stage and therefore different from the current 11 production cars. The car was fitted with their new gearbox alongside other new features.The exact cause of problem will be determined in the next few days.
The Zenvo ST1 took part in the Copenhagen Historic Grand Prix 2015. Unfortunately, it did't manage to do its reputation much good. It appears as though the Danish supercar caught fire while taking part in a parade lap. If you've followed the development of the Zenvo ST1 you will remember a similar incident at the Top Gear test track a few years ago.
Details on the accident are not yet clear, however, it looks from the video as though the problem will probably be traced back to the fuel lines. The car appears to spontaneously combust as the driver coasts round a corner, before the driver pulls it to a stop, making a very quick exit.
[youtube]https://youtu.be/JKOF3Kn_ly8[/youtube]
The Zenvo's development has been fraught with issues, the most high profile of which involved a review on Top Gear. The ST1 broke down three times before it was eventually able to set a competitive lap time. It also took a trip into the sand box at Jyllands Ringen in 2010.
Zenvo had hoped that revisions to the design had put these problems behind them. The Geneva Motor Show 2015 saw the announcement of a new 7-speed single clutch box, together with a range of new cosmetic and aerodynamic upgrades.
[youtube]https://youtu.be/26HpMVHpm-0[/youtube]
Its not clear where the team will go from here. Evidently, a full investigation will take place, hopefully we will see the Danish supercar back on the road. They are due to attend Salon Prive this year so we will undoubtedly catch up with them there.