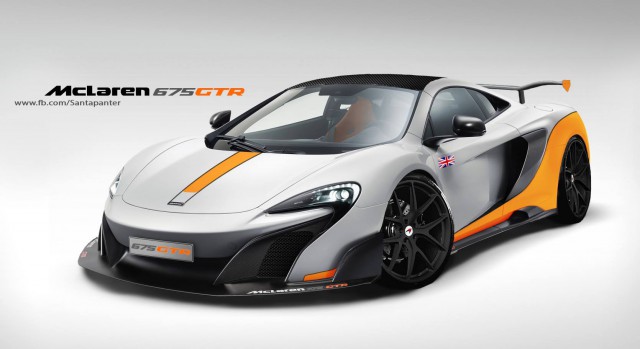 The McLaren 675 LT is part of the McLaren Super Series, which also includes the 650S and the 12C. The 'LT' in the name means 'Longtail' and pays homage to the iconic McLaren F1 GTR LT- of which only 10 examples were made by the British automaker in the nineties.
Fitted with an overhauled V8 engine found in the 650S, that can produce 675 hp and 700 Nm of torque, the 675LT sprints from 0 to 100 km/h in 2.9 seconds and from 0-200 km/h in just 7.9 seconds. It was first showcased at the Geneva Auto Show 2015 and all 500 units of the car have already been sold out.
Meanwhile, Santapanter has rendered what a McLaren 675 GTR could look like. The front fascia looks a bit similar to the 675 LT owing to the identical headlamps. However, the GTR body kit, which includes the imposing side-skirts and large rear spoiler, gives this McLaren a more aggressive look.
The livery has been inspired by the McLaren P1 GTR, which is a $3.1 million track-legal hypercar only available to the current P1 owners. McLaren will sell 35 units of the P1 GTR and its hybrid powertrain will produce in excess of 950 hp. During our Supercar Week, the team here at GTspirit got to drive the 675 LT and our full review about the car can be found here.