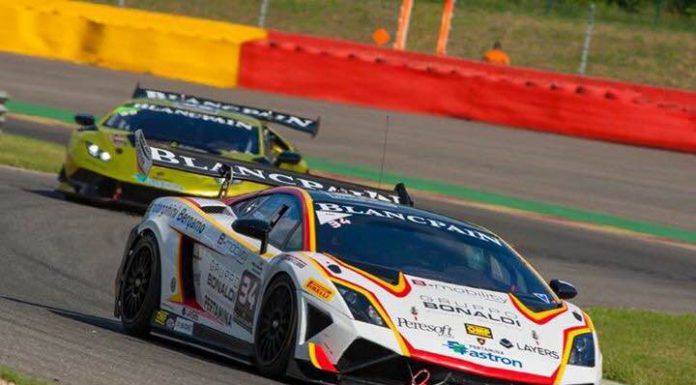 The fourth round of the Lamborghini Blancpain Super Trofeo Series Europe took place at the legendary Spa-Francorchamps this weekend, sharing location with the 24 Hours of Spa which is currently ongoing. Race 1 took place on Friday with Bonaldi Motorsport driver and Series leader Patrick Kujala leading from start to finish. Unfortunately the Finn was given a 10-seconds penalty for overtaking the safety car and dropped down to sixth place.
Benefiting from this penalty was none other than Pro-Am driver Alberto Di Folco from Raton Racing who crossed the line behind Kujala. Folco was automatically promoted to P1 making this his first ever Super Trofeo win as well as the first win for the team in the series. The young Italian driver had chased Kujala after starting from P2 and never lost him out of sight till chequered flag.
There were two safety car periods in Race 1 – the first one being as a result of Cyril Leimer's crash while Jacopo Faccioni caused the second incident forcing him to retire. Kei Cozzolino and Shinya Michimi from Vincenzo Sospiri Racing took P2 ahead of Alberto Cerqui and Giacomo Barri from Imperiale Racing. Florian Spengler – another Bonaldi Motorsport driver took P4. Elsewhere in Pro-Am class, Loris Spinelli and Marco Moscato repeated their win in Silverstone to claim victory in this class.
Mikhail Spiridonov from Kinetic Racing Team won in the Am-Class while Italian GT driver David Perel gave Bonaldi Motorsport another win in the Am-Gallardo class. This was the first time the South African driver took part in a Super Trofeo event. He echoed, "This was my first ever race in the Lamborghini Blancpain Super Trofeo Europa. I could not ask for more."
Race 2 encountered heavy rains but that did not stop Kujala from emphasizing his prowess as he scored another win after leading from start to finish – this time with no penalties at hand. Folco attacked once again but was only able to finish in P2 ahead of Daniel Zampieri and Roman Mavlanov from Antonelli Motorsport.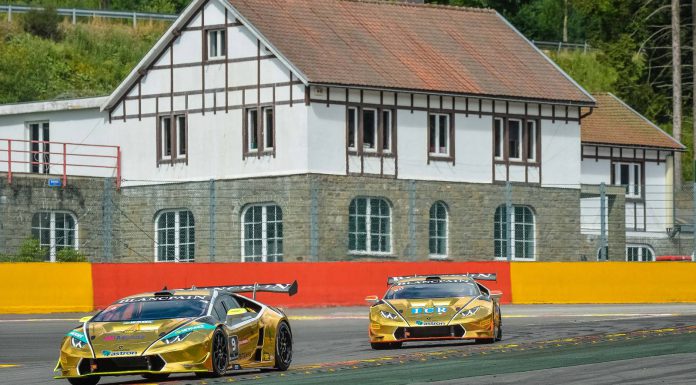 Simone Pellegrinelli from Imperiale Racing took the win in the Pro-Am class while Shota Abkhazava from Artline Team Georgia won the Am class. Once again David Perel gave Bonaldi Motorsport a much needed win in the AM-Gallardo class making his Super Trofeo debut a success in the GTspirit Lamborghini Gallardo GT3.
Round 5 and the penultimate round of the Europa Series will take place at the Nurburgring on 19th and 20th September.