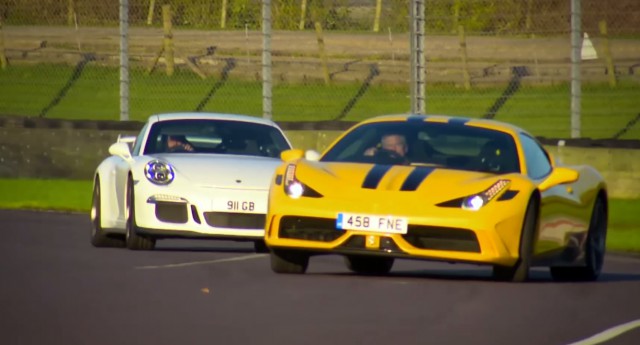 Late last year, Chris Harris travelled to the Angelesy Circuit in the UK to definitively decide which of the Ferrari 458 Speciale and Porsche 911 GT3 is best. Well Fifth Gear recently embarked on the very same challenge and brought along Chris for the test to join veteran TV present Tiff Needell.
[youtube]https://www.youtube.com/watch?v=dThFyzMaGBE[/youtube]
Featuring a high-octane track battle to discover which of the two is fastest, it is of little surprise that the 458 Speciale comes out on top. However, the 911 GT3 with Chris behind the wheel puts up a good fight with the race going down to the last few corners.
On paper, there are few similarities between the 458 Speciale and the 911 GT3. The 911 has its engine in the rear, while the 458's is in the middle. The 911 has a 3.8-liter inline-six, while the Ferrari has a busy 4.5-liter V8. But both these cars currently represent the most pure and high performance variants of the models they are based on (except the new 911 GT3 RS), making them perfect candidates for a head-to-head comparison test.