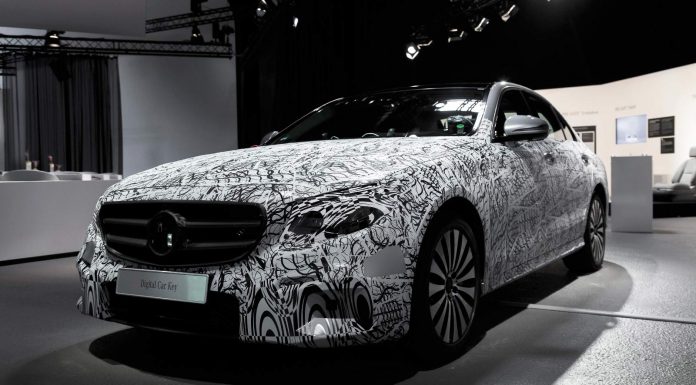 Mercedes-Benz are pushing forward in their goal of creating the accident-free and fully autonomous vehicle with the introduction of the new E-Class. The seventh-generation E-Class which is underpinned by the new MRA platform is due out next spring and showcases numerous innovative technologies as well as vast improvements to the current line-up of Mercedes-Benz driver assistance systems. We had a closer look at the new 2016 Mercedes-Benz E-Class and all its innovations at Mercedes-Benz in Stuttgart.
The exact specifications of the new E-Class are still sparse but we do know that several fuelefficient plug-in hybrids will be offered as well as the range-topping E63 AMG which will be powered by the all-new 4.0 twin-turbo V8 seen in the C63 and AMG GT. The interior will feature the familiar tablet-style colour display and a completely redesigned dash layout.
The upcoming E-Class features a more organic form than the outgoing model with design elements which fall in-line with the new corporate-look, namely borrowing from the S and C-Class models. The tail-lights are one such familiar shape that now feature a textured interior reflective surface, creating an aesthetically pleasing look and also incorporating multiple brightness levels depending on various situations.
Up front the car also resembles its counterparts with the bold grill and flowing headlights, which have also been dramatically upgraded. The lights now feature 84 LED's arranged in a grid module as compared to the outgoing 24 LED modules used in the CLS. This effective increase in resolution makes for a brighter and more precise light coverage with multiple capabilities such as protecting other road users from back-glare and automatic adjustment of light intensity in accordance with changing weather conditions.
The next level Intelligent Drive system assists in steering, acceleration and braking and maintains the car at a constant speed within the 0 to 200 km/h range. The system assists steering inputs by utilising an array of sensors designed to detect lane markings and surrounding vehicles and can therefor operate in situations such as road works or on unmarked country roads. We tried this out on the new Maybach on our recent GT Spirit tour and were all impressed by how accurate and useful this actually worked.
On the safety front, Mercedes-Benz are continuing their tradition of innovation with a host of new features designed to both avoid potential accidents and also lessen the effects of unpreventable collisions. With the advancement of sensor technology, Active Brake Assist has been vastly improved and is now capable of preventing collisions with stationary vehicles or pedestrians up to a speeds of around 65km/h. In conjunction with this, Evasive Steering Assist utilises radar-sensors and the multi-purpose stereo camera to provide calculated steering torque assistance in situations requiring evasive action such as pedestrians walking into the road or vehicles approaching from the side at intersections.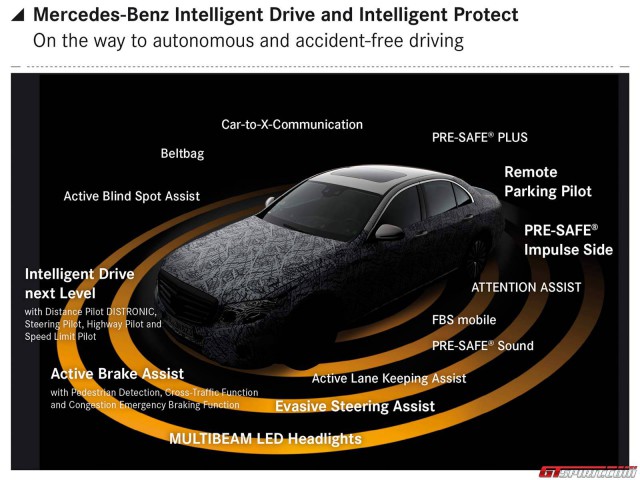 In case of an unpreventable collision, Mercedes-Benz have introduced some very innovative technologies to keep you out of harms way. One of which is entitled PRE-SAFE Impulse Side. This system can detect an imminent side-collision and rapidly inflate the side bolsters of the backrest, effectively pushing you as far as possible from the point of impact. This simple yet clever technology can provide extra crucial centimeters, potentially removing the occupants from life threatening situations. I had the somewhat dubious opportunity of testing this out and was quite impressed by the effectiveness of the system, it provides a firm shunt but nothing too alarming for the unsuspecting occupant.
In the event of an accident the engineers at Mercedes-Benz have researched the common aftereffects and one commonly recurring issue is hearing damage. Accidents are often extremely loud and involve high sound pressure changes. The upcoming E-Class therefor incorporates a new technology called PRE-SAFE Sound. This technology detects an imminent impact and emits a short interference signal from the audio system, in turn activating the natural reflex of the stapedius muscle within the ear to contract and provide greater protection to loud noises.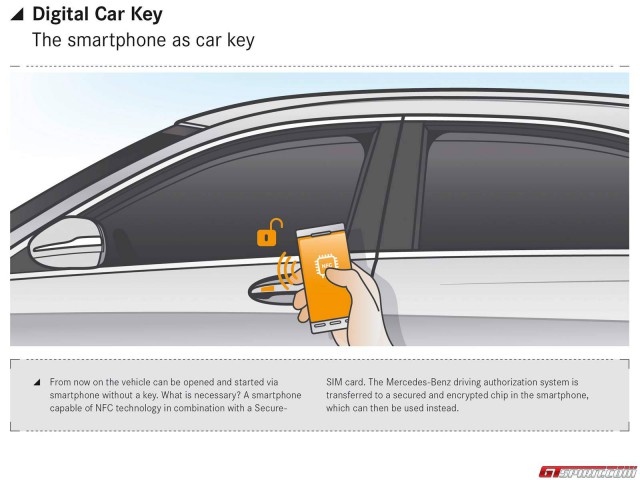 Finally, the push to attract the more tech-savvy buyer continues with some new and interesting features. Digital Car Key is a new technology that utilises Near Field Communication (NFC) to enable your Android or iOS smartphone to act as a car key by simply touching it against the handle of the car to either lock or unlock the doors. Remote Parking Pilot is a system that allows the vehicle to be moved into and out of parking spaces from the outside using a smartphone app.
This is especially useful for situations such as tight parking spaces, or parents having to board the car with
children and baggage. Finally Car-to-X Communication is a car-to-car networking system that effectively allows the driver to see around corners, informing them through the infotainment system of imminent danger such as accidents and hazardous environments.
The new E-Class is set to redefine the level of safety, stress relief and comfort currently available on the automotive market. With the evolution of such technologies as Intelligent Drive, PRE-SAFE and Car-to-X Communication our cars are starting to assume an intelligence and capability that was not even conceivable just a few years ago.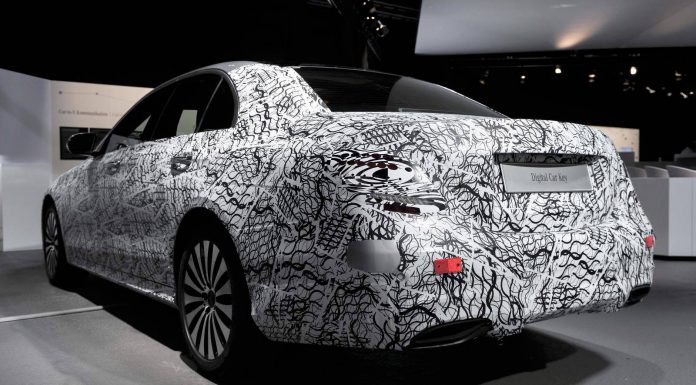 The new E-Class acts as a major step towards the companies' goal to create the accident-free and autonomous vehicle and will be closest thing to a self-driving car available for sale in 2016. For all those that dream of a day when our car will effortlessly deliver us to our destination, watch this space, you havn't got long to wait!