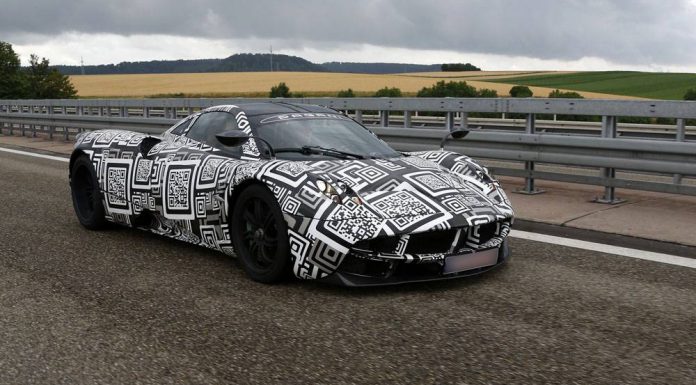 Back at the Geneva Motor Show 2015, Horacio Pagani revealed that a hardcore version of the Huayra coupe would arrive before next year's Geneva show. Now the first spy shots of that new model have surfaced online.
This particular hardcore Pagani Huayra prototype features a white and black camouflage wrap but it is unlike most others used by automakers. Instead of just featuring random swirls, it includes a range of QR Codes which reportedly link to a video showing the development of the new Huayra derivative.
While speaking with Top Gear at the Geneva Motor Show 2015, the firm's founder Horacio Pagani revealed that the car will act as a gift to the marque's fans around the world. When quizzed for more information, Horacio said "You guessed right. It's going to be a hardcore version of the Huayra coupe."
The only other pieces of information Horacio revealed were that this hardcore Huayra will be limited to a mere 20 examples, be offered exclusively to existing Huayra customers and won't take the form of a track-oriented Huayra R inspired by the Zonda R.