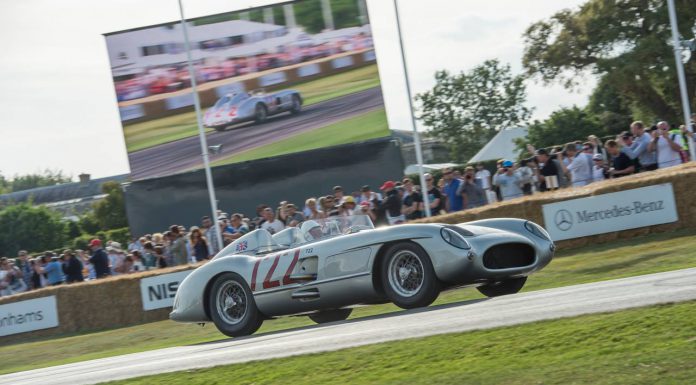 Seven of the eight existing Mercedes-Benz 300 SLR were present at the Goodwood Festival of Speed 2016 60 years after Stirling Moss drove the car numbered 722 to the Mille Miglia triumph with an unsurpassed average speed of 157.65 km/h.
The Mercedes-Benz 300 SLR was produced by Mercedes-Benz in 1953 for Grand Prix racing. Only nine models of the two-seater car were ever produced, with six being now maintained by Mercedes-Benz.
SLR stood for "Sport Light-Racing" and the 300 SLR was based on the W196R Formula 1 racing car. The main technical difference only lay in the engine as the 300 SLR was powered by a 3.0-litre version of the inline eight cylinder engine (producing 302 hp) and had cylinder blocks made of light alloy rather than steel. The car was triumphant at the Mille Miglia, the Eifel Race, the Swedish Grand Prix, and the Targa Florio (Sicily).
Two of the 300 SLRs were converted into coupés by Mercedes' then-designer Rudolf Uhlenhaut. They were meant for long-distance races but could never actually compete after the Mexican government rejected proposal for a long-distance run in Central America following the 1955 Le Mans disaster. Coincidentally, Mercedes withdrew from motorsport racing at the end of 1955, thus leading to premature end for 300 SLR's racing career.
The coupé was mainly used for practice runs and later on by Uhlenhaut for business purposes (hence, it was nicknamed the "Uhlenhaut coupe"). It had a top-speed in excess of 290 km/h and was widely considered as one of the fastest cars of its era. One of the 300 SLR coupé's is displayed at Mercedes' corporate museum in Sindelfingen near Stuttgart.
As mentioned, at the Goodwood FoS last weekend, Mercedes-Benz exhibited seven models of the 300 SLR, one loaned by Cité de l'Automobile, Collection Schlumpf in France. Stirling Moss and Hans Herrmann drove two of the classic cars at Goodwood's hillclimb event.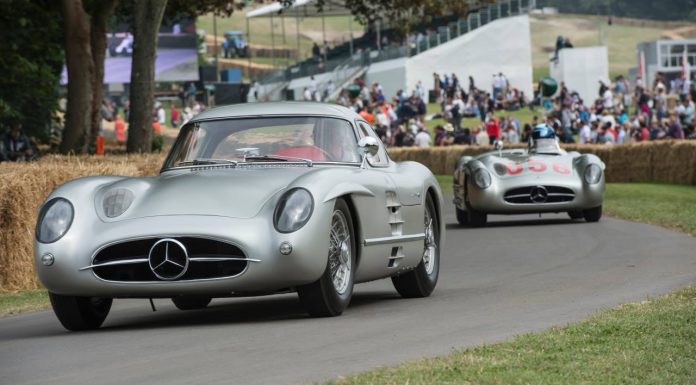 "Seven original Mercedes-Benz 300 SLR racing sports cars reunited with the racing drivers of that era at the fascinating Festival of Speed – a unique reminiscence of the 1955 motor racing season," Michael Bock, Head of Mercedes-Benz Classic and the Customer Centre, said.
"We are very pleased to be celebrating the 60th anniversary of this most successful season in the motor sport history of Mercedes-Benz together with Sir Stirling Moss and Hans Herrmann, and with the six 300 SLRs from our vehicle collection plus the 300 SLR from the French national motor car museum in Mulhouse."