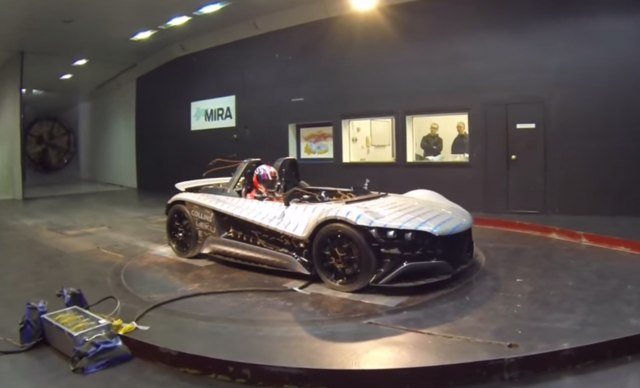 As recently revealed by their official website, the VUHL 05, an ultra lightweight sports car, has been put to the test in a full scale wind tunnel. With the help of Collins Limited, VUHL Automotive has taken the car to the UK, specifically in Nuneaton, where the MIRA Full Scale Aerodynamic Wind Tunnel is located to aid future aerodynamic development by VUHL.
The car, which is an eye catching Edition One, was run through a number of ride heights and yaw angles to gather various data streams; forces measured through the contact patches, surface pressures measured in forty six locations down the centreline of the car, along with surface and volume flow visualisations using wool tufts and smoke wand respectively.
[youtube]https://youtu.be/bfiUW3mD5PU[/youtube]
Collins Limited is using advanced Computational Fluid Dynamics (CFD) to simulate the VUHL 05 in the MIRA wind tunnel and uses the results for correlation. The test was supported by Simon McBeath and reported in Racecar Engineering.
To find out more about these reports, you may find them in the May, June and July Aerobytes feature. Further information on the test is available at VUHL Automotive's Official Website.