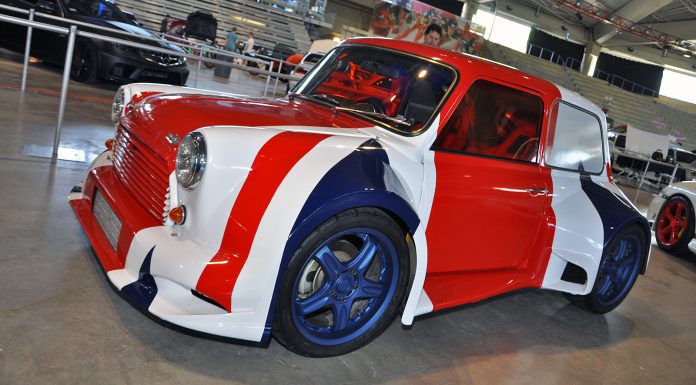 This isn't your average Mini, it's far from normal!
Wrapped in a British flag livery and wearing a one-off custom fiberglass widebody kit, this original 1969 Austin Mini Cooper S was built by automotive enthusiast, Zahir Rana, long before he started ZR Auto. The car was on display at the recent Driven show in Calgary and Rana took the opportunity to fire it up in front of the massive crowd.
[youtube]https://www.youtube.com/watch?v=JxdQSGzx78w[/youtube]
The spec sheet on this Mini is extensive. The car features a B18C 1800 cc DOHC turbocharged Honda VTEC engine, xustom spec Turbonectics turbo & wastegate, 4 into1 stainless exhaust manifold, custom three inch exhaust, Edelbrock intake manifold & throttle body, Crower cams, Supertech valvetrain, Billet forged rods and crank, block girdle, Z10 oilpan, Autronic ECU, custom tune, MSD ignition, Fluidyne radiator, race spec fuel system and much more.
The Mini pushes out 400 horsepower, which is a truly impressive feat. What's more impressive is the incredible exhaust note.
Watch the video above to see how loud this Mini truly is. Could it be the loudest Mini on the planet?