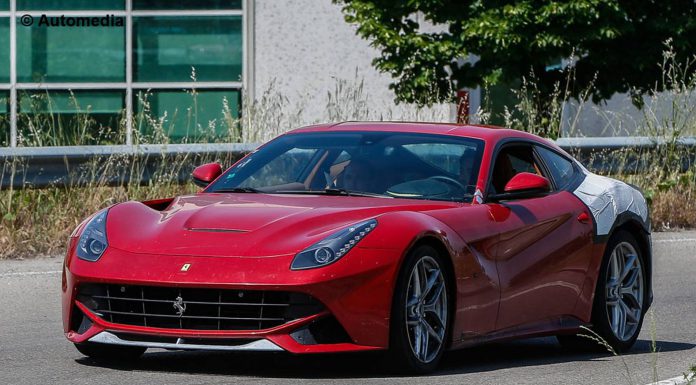 GTspirit has just received word that at the IAA Frankfurt Motor Show 2015 in September, Ferrari's brand new F12 GTO will celebrate its world debut. This news comes just a few days after additional details and spy shots about the hardcore F12 emerged online.
Underpinning the F12 GTO will be a naturally-aspirated 6.3-litre V12 engine just like the standard model. However, power will be increased from 740 hp and 509 lb-ft of torque to around the 800 hp mark. Although unconfirmed, there is a suggestion that the HY-KERS system from the LaFerrari could be carried over into the GTO. A number of other technologies pioneered on the LaFerrari could also be featured on the car.
Whatever the case may be, the Ferrari F12 GTO will be exceptionally fast thanks to its additional power. Additionally, the car will shed over 100 kg compared to the F12 Berlinetta meaning it should weigh around 1415 kg.
Beyond the performance modifications, the car will be adorned with unique and menacing new bodywork as with all other Ferrari models to wear the iconic GTO badge throughout the years.
Production will be limited to a mere 650 examples with customer deliveries to start in the second quarter of 2016.