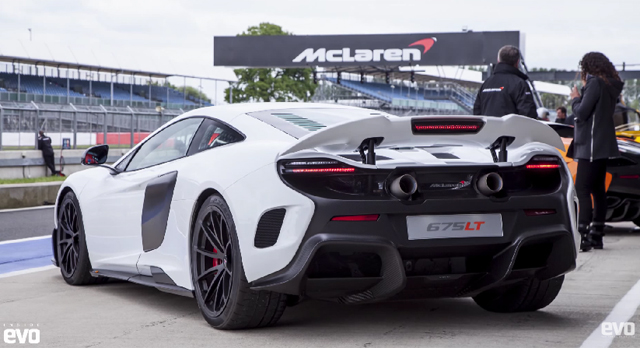 While press drives of the potent McLaren 675LT have yet to commence, Evo Magazine's Henry Catchpole recently had the exclusive opportunity to ride shotgun in the range-topping model of McLaren's Super Series.
[youtube]https://www.youtube.com/watch?v=Ygetka83TzU[/youtube]
While the video isn't of the highest quality, it does help highlight the significantly louder exhaust note the 675LT produces compared to the 650S. Thanks to its additional downforce as well, it appears absolutely glued to the tarmac during the high-speed laps. What's more, Bruno Senna was behind the wheel!
The McLaren 675LT of course gets the British marque's familiar 3.8-litre twin-turbocharged V8 engine but it now delivers 666 hp rather than the 642 hp provided by the McLaren 650S. Elsewhere, dry weight is down to 1,230kg. By comparison, the Ferrari 458 Speciale (the only proper yardstick by which the McLaren can be measured) weighs 1290 kg. The performance statistics are consequently impressive. The 675LT gets a 0-100 km/h (62 mph) time of 2.9 seconds, a 0-200 km/h (124 mph) time of 7.9 seconds and a top speed of 330 km/h (205 mph).