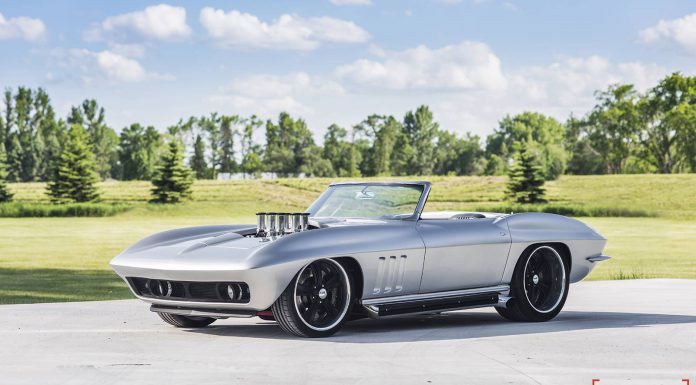 A vintage 1965 Chevrolet Corvette convertible has been fully restored after two years of body work on the vehicle. The Corvette has been painted in a silver exterior color with black detailing. Thanks to Alex Bellus we can now share with you the beautiful photoshoot of the amazing restoration project.
The interior has been given a makeover with black leather used for the seats and a handmade metal-sheet utilized for the dashboard, which has modern instruments. The Corvette is powered by a 572 Cl engine, which is mated to a 6-speed manual transmission. The chassis is custom-built with "carefully matched and fabricated components" and an independent rear suspension.
The bonnet, round-shaped taillights, shaved door handles and big, circular, low-slung headlamps give the car an image of a prototype. It has been tastefully personalised, blending the past and the future.
Six-piston Wilwood brakes have been fitted into the Corvette. Billet throttle body fuel injection system and Billet fuel rails and intake trumpets can also be found in the car.
The 19-inch front and 20-inch rear Billet Specialties wheels couple with Michelin Pilot Sport tyres give the Corvette a sporty touch. The valve covers, heads, block, water pump and custom fabricated oil pan have been painted to match body of the Corvette. The coilovers are adjustable on all four corners. The exhaust is custom-made with black ceramic coating. It's bent at the end.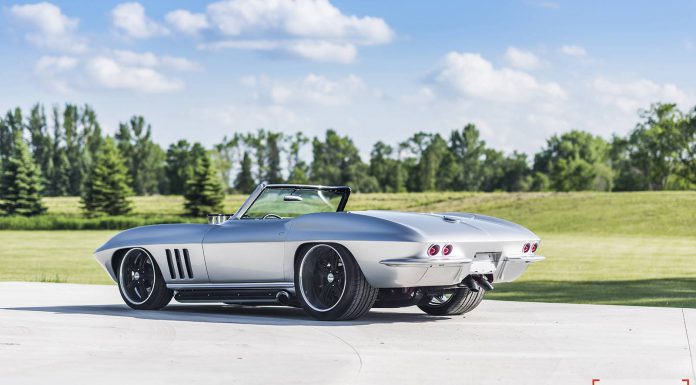 The 1965 Chevrolet Corvette will go under the hammer at the 2015 Monterey Auction, that will be held from 13 to 15 August by the Mecum Auction Company at Hyatt Regency. It's unclear at present how much the car is expected to fetch but with its ravishing customisation, it will be one of the star attractions at the auction.