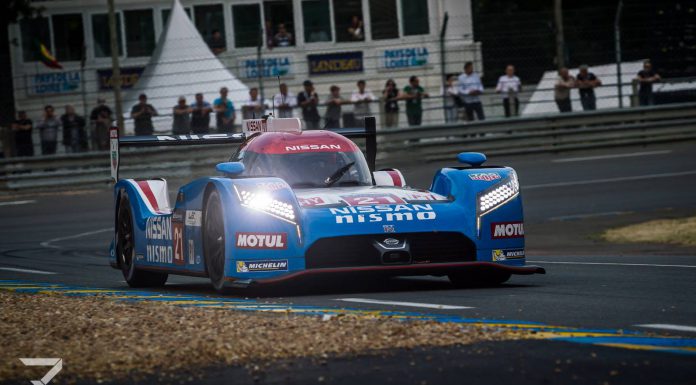 While Nissan will be starting this weekend's 24 Hours Le Mans in 12th, 13th and 14th places respectively, its GT-R LM Nismo has still proved quite quick on its endurance racing debut disregarding the fact it's about 20 seconds a lap slower than its rivals.
[youtube]https://www.youtube.com/watch?v=W3w_Pn_E7-s[/youtube]
In case you needed reminding that any prototype class race car is exceptionally fast, this video may help remind you. Showing a thrilling onboard view during a dusk session in the GT-R LM Nismo, the way the car carves through corners despite its controversial front-wheel drive system is very impressive.
For an engine, the GT-R LM Nismo utilises a twin-turbocharged petrol 3.0-litre, 60 degree V6 featuring direct injection. This engine is then mated to a 5-speed pneumatic paddle shift transmission incorporating epicyclic final drive reduction alongside an hydraulic limited slip differential. An advanced Tilton 3-plate carbon clutch is also used. Furthermore, the Nissan GT-R LM Nismo includes an advanced energy recovery system housed both ahead and beneath the driver's feet. The V6 delivers somewhere in the region of 500 hp and the recovery system is tipped to deliver between 500 and 750 hp.
Beyond the engine, the Nissan GT-R LM Nismo is an exercise in advanced aerodynamics. Whereas other Le Mans prototypes have been designed so air passes over, around and beneath the car, the GT-R LM Nismo has actually been designed for the air to flow through the car in what is known as a through-flow system. As such, air channels start at the front of the car, work their way around the cabin and then exit at the rear end and diffuser.