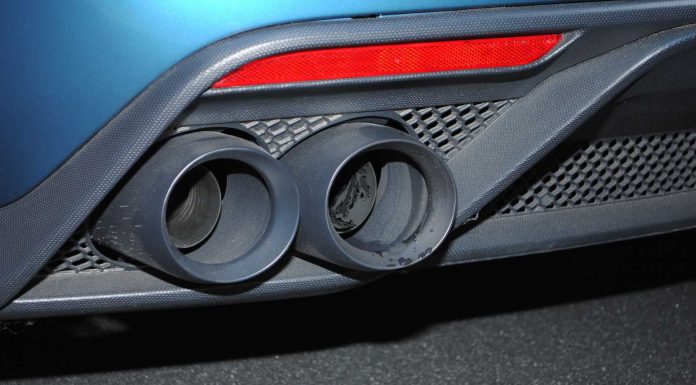 While the Ford Mustang Shelby GT350R has been created as the most track-focused road-legal Mustang ever, the American marque has ensured it is still usable and suitable for the street. One of the key ways it has done this is through the installation of a valve operated exhaust system which can adjust just how loud the muscle car is.
[youtube]https://www.youtube.com/watch?v=qlWPW0SHwu0[/youtube]
The system's 'Normal Mode' has been created to restrict the exhaust note to ensure future Mustang GT350R owners can trundle through neighbourhood's quietly. When the exhaust is switched into its louder mode however, it roars unlike any other Mustang before it and isn't far from being able to wake the dead!
When looking at the spec sheet, it is little wonder why the Mustang GT350R sounds so good. Its 5.2-litre naturally-aspirated V8 engine delivers a total of 526 hp and 429 lb-ft of torque. What's more, the V8 is Ford's high-revving production V8 with the redline sitting at a buzzing 8250 rpm.
The horsepower figure means that this engine delivers 102 hp per litre of displacement. Arguably the most interesting feature of the engine is its use of a flat plane crankshaft. Typically found on racing cars as well as some high-priced Italian exotics, this setup sees the connecting rods attached to the crankshaft at 180-degree intervals rather than 90-degree intervals. This results in a dramatically different soundtrack while also improving the breathability of the engine.
Peak power is reached at 7500 rpm while maximum torque is found at a lower 4750 rpm. Interestingly, 90 per cent of torque is available from 3450 rpm to 7000 rpm. Another key element of the engine is its use of an 87 millimetre throttle body, which just so happens to be the largest ever used on a Ford engine.