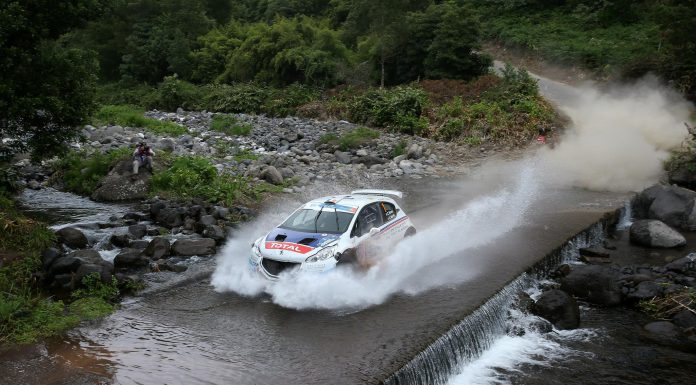 Craig Breen stormed into victory at the 50th SATA Rallye Açores in Portugal after battling stage after stage with LOTOS Rally Team Fiesta R5 driver Kajetan Kajetanowicz. The two were equally able to claim the final victory after 17 stages of extreme racing. A last minute tire decision by Kajetanowicz cost him the opportunity to keep fighting for first. While Breen chose to stick on hard Michelin tires, Kajetanowicz opted for Pirelli softs and as a result the gap between him and Breen widened from 11s to 1m02.1s.
Co-piloted by Scott Martin in a Peugeot Rally 208 T16, Breen scored his third straight ERC win of the year during this round. The Irishman has accumulated 25 stage wins so far while Kajetanowicz has 24, both drivers led in 3 different stages. Making it a double podium for Ford was Ricardo Moura in a Ford Fiesta R5 that limped to the finish line with brake problems. He had to tap his brake pedal more than twice at each corner in order to acquire stopping power.
Fourth place went to Bruno Magalhães who encountered quite a number of problems with his Peugeot 208 T16. The two time Rallye Azores winner remapped his engine, changed a turbo and a throttle as well before finishing fourth. Robert Consani was fifth in his Citroen DS3 R5 leading José Pedro Fontes who had not raced at Rallye Azores since 2008.
2015 Azores Rally Highlights: Sensational Scenes!
Dominykas Butvilas went ahead to win the ERC2 category in his Subaru Poland Rally Team WRX STI, he ranked eighth overall. Last year's winner Luis Rego claimed second ahead of Vojtěch Štajf in a Subaru WRX STI. Stajf was competing in his 173rd career rally. Chris Ingram scored his first ERC Junior victory in this round while battling food poisoning after eating a spaghetti bolognese dinner.
Portuguese Peugeot Rally Academy 208 driver Diogo Gago finished second in ERC Junior class to lead Steve Røkland in another Peugeot 208.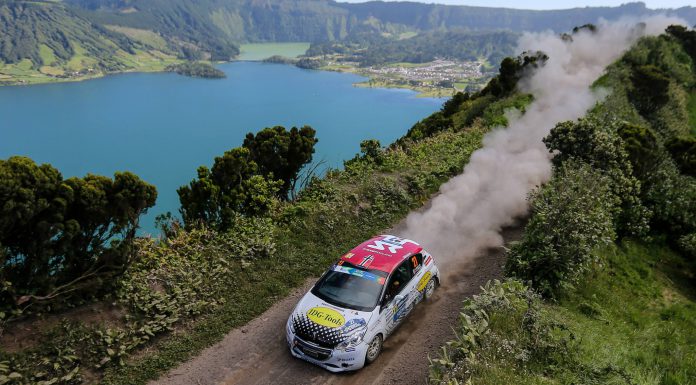 Top 10 Positions at Azores Rally 2015
1 Craig Breen (IRL)/Scott Martin (GBR) Peugeot 208 T16 2h45m59.6s
2 Kajetan Kajetanowicz (POL)/Jarek Baran (POL) Ford Fiesta R5 +1m02.1s
3 Ricardo Moura (PRT)/Antonio Costa (PRT) Ford Fiesta R5 +2m14.3s
4 Bruno Magalhães (PRT)/Hugo Magalhães (PRT) Peugeot 208 T16 +3m04.9s
5 Robert Consani (FRA)/Maxime Vilmot (FRA) Citroën DS3 R5 +5m54.2s
6 José Pedro Fontes (PRT)/Miguel Ramalho Citroën DS3 R5 +6m38.8s
7 Sam Moffett (IRL)/John Rowan (IRL) Ford Fiesta RRC +8m01.4s
8 Dominykas Butvilas (LIT)/Kamil Heller (POL) Subaru Impreza WRX STI +9m18.3s
9 Charles Martin (FRA)/Thierry Salva (FRA) Peugeot 208 T16 +10m55.9s
= Jaroslav Orsák (CZE)/David Šmeidler (CZE) ŠKODA Fabia S2000 +10m55.9s