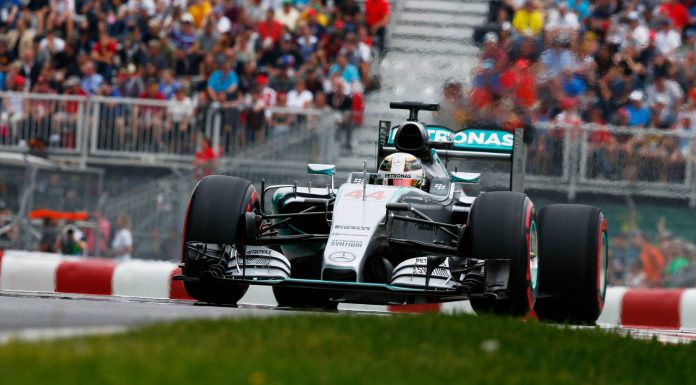 Mercedes' Lewis Hamilton has won the 2015 Canadian GP after leading from pole to finish. The Briton led a Mercedes-powered podium comprising of teammate Nico Rosberg who finished in P2 and Williams' Bottas who took the final spot on the podium. Ferrari missed the podium this time round finishing in P4 and P5 with Kimi Raikkonen and Sebastian Vettel respectively. Felipe Massa put the other Williams car in P6 ahead of Lotus' Pastor Maldonado. Nico Hulkenberg put Force India within the points zone in P8 ahead of Red Bull's Daniil Kvyat and Lotus' Grosjean.
Polesitter Hamilton led the field to a firm start aiming to score his third win at the Formula 1 Grand Prix du Canada in the famous Circuit Gilles Villeneuve. Nico Rosberg kept close by him leading the Ferrari of Kimi Raikkonen and the Williams of Bottas. Sebastian Vettel was struggling to climb up the field and pitted for a set of soft rubber in lap 8, he rejoined the race in P17.
For this round, Pirelli provided teams with yellow marked soft tires and red marked supersoft tires. All top ten drivers in the grid started on supersoft while the rest of the field was free to choose between the two. The grid was quite interesting today with a couple of leading drivers starting from behind.
Ferrari's Sebastian Vettel limped out of Q1 with a technical problem in his car, he was given a five-place grid penalty for overtaking under red flags in FP3 and thus started the race in 18th. McLaren's Jenson Button started from the pitlanes as he never made it into qualifying, he was given a drive-through penalty to serve within the first three laps of the race.
Meanwhile, Williams Felipe Massa brought the midfield to life with a couple of fast stunts as he juggled his way up to the leaders. He outran Red Bull's Daniel Ricciardo after unleashing his DRS on the back straight to take P10 before passing Force India's Sergio Perez and Daniil Kvyat to settle in P7. Vettel was performing similar moves in the field behind, having taken out Fernando Alonso, Max Verstappen and Carlos Sainz to settle for P12.
A yellow flag was shown on lap 28 after Raikkonen spun at the hairpin, he had just rejoined the race from the pits and was running in P4. Bottas thus fell into P3, he made a slow pit stop but still rejoined the race in P3. Hamilton and Rosberg were now on each others neck by lap 34 with only a 1.1s gap between them. Elsewhere, Vettel was making his way up and fighting for P5 with the other fast man of the race – Massa.
With 42 laps done, the Silver Arrows were literally in a different time zone, Hamilton held a lead of 1.4s over Rosberg but after that the lead grew bigger to 20s over Bottas increasing gradually down the field. There was contact between Vettel and Hulkenberg on lap 44 as none was giving way to the other, the yellow flag was brought out again. Meanwhile Alonso lost power in his car leading to his third straight retirement of the season.
Another incident occurred in the midfield when Lotus' Grosjean clipped onto Stevens' Marussia on Turn 14. Initially Grosjean blamed Stevens but the stewards confirmed that it was the Frenchman's fault, he was given a five-second penalty for than incident. Stevens radioed in shouting, "He's so stupid, he comes across me every time he overtakes.What does he want me to do, run off the track?"
With less than ten laps left to go, Vettel was pushing hard in P5 behind teammate Raikkonen who was only 9s ahead. Hamilton was in the lead, Rosberg in P2 and Bottas in P3. McLaren had recalled Button into the pits where they retired him concluding a rather disappointing weekend. A Mercedes-powered podium taking shape with only four more laps left.
2015 Canadian GP Results: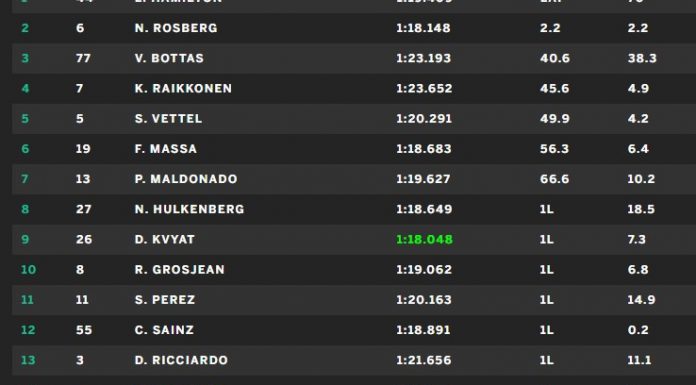 Practice and Qualifying Report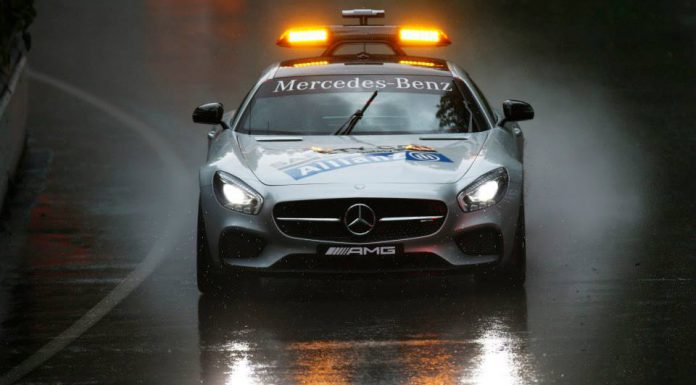 First held in 1961 the Canadian GP is one of the most watched F1 Grand Prix and at one time it ranked 3rd behind Super Bowl and UEFA Championship League as the most watched sporting event. Michael Schumacher holds the most number of wins at 7 while McLaren and Ferrari tie at 13 wins.
Free Practice 1 kicked off on Friday morning at Montreal's Circuit Gilles Villeneuve with the Silver Arrows setting a series of quick laps to top the timesheets. However, this did not come about without a few mishaps; Hamilton experienced a major spin in one of the hairpins but despite that the Briton managed to record a best time of 1:16.212 to lead Rosberg and Lotus's Romain Grosjean.
At this point it was not clear whether Ferrari was using their updated engine, Vettel ranked fifth behind Force India's Nico Hulkenberg and ahead of Williams' Felipe Massa. Fernando Alonso put McLaren in ninth after setting a best time of 1m 18.128s to lead Max Verstappen in the Toro Rosso.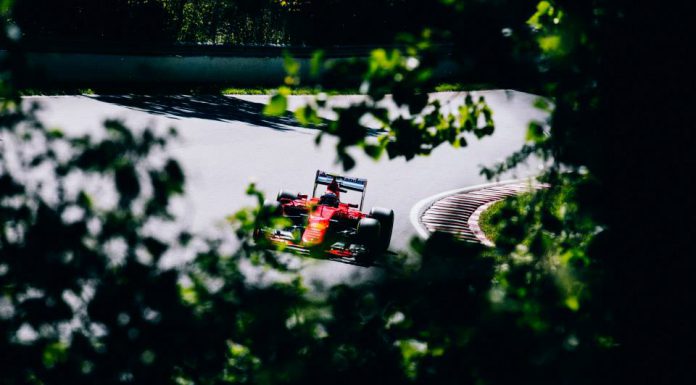 FP2 started out dry with Ferrari setting the initial pace in the afternoon session. At this point it was known that indeed the Maranello based team was running updated engines in their SF-15 cars. Hamilton then clocked the quickest lap on 1:15.988 beating Vettel's initial time of 1:16.304. Kimi Raikkonen went ahead to finish third ahead of Rosberg in the other Mercedes car.
That was not all about it for FP2, the times above were set prior to a rain struck mid-session which saw Hamilton crash out resulting to a red flag. Initially the rain was bearable and Mercedes sent both Hamilton and Rosberg on intermediate tyres, this proved to be a bad idea as Hamilton crashed into the tire barriers damaging his front wing. Lotus' Pastor Maldonado time of 1m16.600s left him in fifth leading Williams' Valtteri Bottas and teammate Romain Grosjean.
FP3 took place on Saturday morning where Rosberg would emerge in the lead this time round. There was quite a lot of drama in the field that resulted to Hamilton finishing last in 19th place. Raikkonen was second for Ferrari while Lotus' Grosjean finished in third. The mix up was caused by two red flag sessions with the first one happening 11 minutes after the session began when Felipe Nasr crashed his car.
The second red flag was brought about by McLaren's Jenson Button who halted at the track with suspected engine problems; he missed qualifying following this incident. The session was discontinued before Hamilton and other drivers could make their way up in the field. Bottas finished in fifth ahead of Force India's Sergio Perez and Red Bull's Daniil Kvyat, Vettel was eighth.
Qualifying was purely dominated by the Silver Arrows where Hamilton and Rosberg set the quickest times in all three sessions. Hamilton was quickest in Q1 leading Rosberg and Ferrari's Raikkonen. Vettel reported a problem with his MGU-H unit and was nearly eliminated in Q1, Button was also in need of a new engine while Williams' Felipe Massa complained of lack of power in his car. Vettel managed to get back before Q1 was over but only enough for him to finish in 16th place.
Ferrari set the pace in Q2 before Hamilton and Rosberg posted faster times to lead lead the session, Grosjean was third for Lotus. Max Verstappen had a 15-place grid penalty; the first one was a 5-place grid penalty carried over from Monaco where he collided with Lotus' Grosjean. The second was a 10-place grid penalty that he acquired for using his fifth engine. The regulations stipulate that no more than four engines should be put to use per season.
Q3 was a battle between Hamilton and Rosberg with the two trading quickest times, eventually it was the Briton who posted a time of 1m 14.393s to edge out Rosberg who set the second fastest time. Raikkonen was third for Ferrari while Williams' Bottas settled for fourth. Grosjean and Maldonado gave Lotus a strong place finish by setting the fifth and sixth quickest times consecutively.
Austria will host the next Grand Prix round on June 21 which is just two weeks away from now.