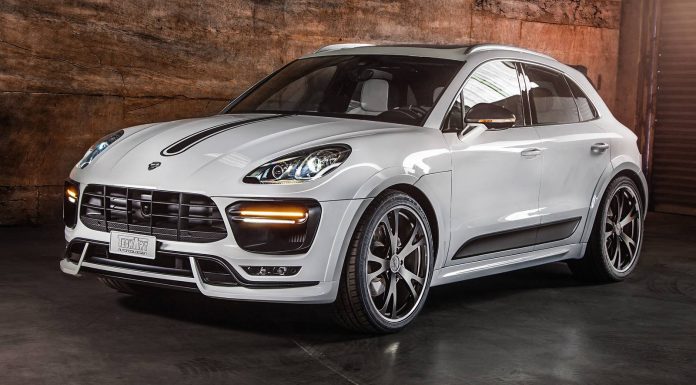 TechArt has just unveiled an advanced new air suspension model for all current Porsche Macan and Cayenne models. The air suspension system allows the operating a range of different ride height settings for the two SUVs.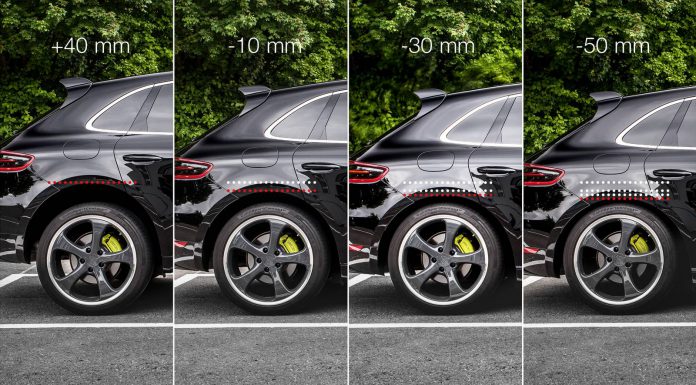 At the Normal level, Macan and Cayennes equipped with TechArt's air suspension system sit 10 mm lower than the standard cars. When Sport Plus mode is enabled, the ride height drops by a further 20 mm. A special parking option is also available. It drops the ride height by a further 30 mm in the Macan and 20 mm in the Cayenne when the car is stationary to provide the German SUVs with more eye-catching stances.
Finally, a Loading Level option is available for the Porsche Macan. It makes for easy loading into the boot by independently lowering the rear suspension.
[showhide]
"New TECHART sport options offer enhanced driving dynamics, comfort and styling. The new TECHART Air Suspension Module »Sport« is available for all current Porsche Macan and Cayenne models. The plug-in system provides sharpened driving dynamics, a sportier look and more comfort. Still on board: Automatic Parking Level. The exclusive TECHART feature is an added function which has been renowned since it was introduced in TECHART systems for previous Porsche models with air suspension.
Sport-focused suspension setup
For sharpened driving dynamics, a sportier appearance and more comfort, TECHART offers its new
Air Suspension Module »Sport« for Macan and Cayenne models with Porsche air suspension.
The setup favors more direct and agile ride height levels. At Normal Level, the chassis of the Macan is lowered by 10 mm compared to the standard air suspension. When driving in Sport Plus mode as well as in Low Level, the vehicle is lowered by additional 20 mm. The Terrain Level however, remains unchanged compared to standard. As a result, TECHART's Air Suspension Module »Sport« provides particularly sporty suspension settings and maintains maximum ground clearance for off-road terrain at the same time.
The module for Cayenne models lowers the body by 22 mm in Normal Level and by 10 mm in Low Level.
Lower Loading Level for the Macan
Added comfort: the lowered Loading Level. For easier loading of the luggage compartment, the rear end of the Macan can be lowered even more, if the Macan is equipped with the TECHART Air Suspension Module »Sport«.
Unique TECHART feature: Automatic Parking Level for Macan and Cayenne
The Automatic Parking Level is a unique TECHART feature for Macan and Cayenne. After locking the vehicle, the body is automatically lowered by another 30 mm (Macan) or 20 mm (Cayenne) if Low Level was selected before. This creates a powerful appearance at standstill which distinguishes clearly from the series model.
Also available: TECHART performance options for vehicles without air suspension
For Cayenne and Macan models with steel spring suspension, TECHART offers a range of sporty performance options, too. Sport springs and spacer kits provide both, increased driving pleasure and an appealing distinctive styling."
[/showhide]